test
By Barbara Goll, BS, Community Education Liaison/Nutritionist
The COVID-19 pandemic brought pain, hardship and profound changes in the way we socialize and engage with each other. It made us feel like Bill Murray in the popular 90s movie Groundhog Day, in which his character lives the same day over and over. We unwillingly progressed to a new normal. For some, our pre-pandemic routines seem strange and anxiety creeps in as we now attempt to change our patterns yet again.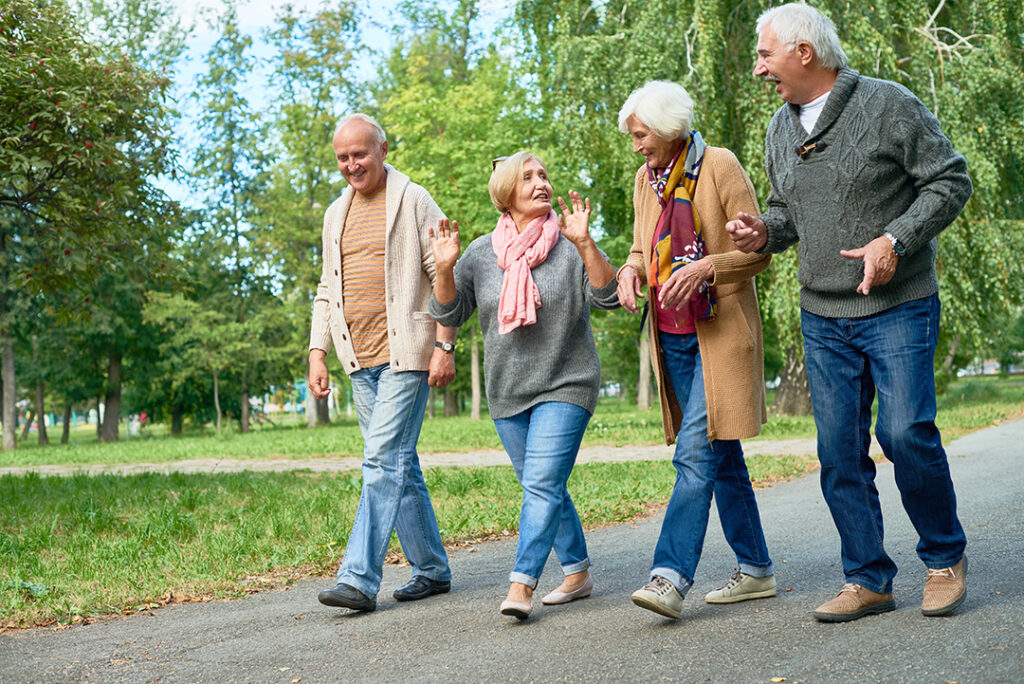 Isolation and enforced social distancing have affected our ability to interact with others, bringing loneliness to many. Loneliness has a harmful impact on mental and physical health. Research shows loneliness can cause depression, increased risk of heart disease, high blood pressure, type 2 diabetes, a weakened immune system, anxiety and dementia. Addressing loneliness as the pandemic subsides is paramount to well-being.
Receiving the vaccination or having antibodies has given us hope to return to gatherings, travel and other social activities that bring us joy and comfort. But slow and steady is the key to rebuilding our social connections and in-person interactions.
Getting back out into the world may seem overwhelming at first. It's important to gauge your comfort level to make the healthiest choices for you. Moving too quickly into activities you aren't comfortable with, or that overwhelm your schedule, could bring on anxiety, panic and trouble sleeping.
The Power of Resilience
Psychologists define the word resilience as "the process of adapting well in the face of adversity, trauma, tragedy, threats or significant sources of stress." A recent study by the Gerontological Society of America revealed older adults (70 years and older) showed more resilience in facing life's challenges during the COVID-19 pandemic compared to younger counterparts. This age group may be uniquely able to cope given the life experiences and coping mechanisms that they learned over time. They have more emotional intelligence, personal fortitude, and resilience.
The study also found that age and emotional well-being tend to increase together even as mental acuity and physical health may diminish. Compared with young adults, people 50 and older score consistently more positive emotions, independent of income or education. This isn't their first rodeo. Older adults have been through tough times before. They are survivors!
Ease Back into the Swing of Things
Before rushing off to experience a new, more hopeful, period of the COVID-19 pandemic, it's important to assess our personal feelings and what we feel comfortable with today.
Below are tips to help navigate a return to in-person activities:
Go easy on yourself. Welcome emotions of all kinds while being compassionate to yourself. All of your feelings are valid. Do not compare yourselves to others, or how they think you should feel, or how you think you should feel. We all recover and adjust at our own pace. After missing our in-person gatherings for so long, we may not be feeling overly excited inside about getting together again. There is no right or wrong. Do not add pressure to yourself by believing that you should feel a certain way.
Be mindful. Start on a slow journey to joy. Perhaps try a mindful walk in a park where you feel at peace, visit a painting that brings you joy, listen to your favorite music or eat outside at your favorite restaurant. Mindfulness allows you to savor life and focus on immediate surroundings and needs and not the unknown future or past.
Recognize your feelings. Feelings of fear and sadness are there for a reason – the world has gone through a real trauma. We have been on edge for so long and anxiety needs to subside slowly. Reactions of guilt, resentment, excitement and loss are normal. Time is needed to heal. Watch your pace. You may be more exhausted than you think by stimulation you have not had for over a year.
Understand we've changed. For many of us, interests and priorities have changed. We may take up new interests and leave others behind. It's completely normal for things that used to bring joy to feel less satisfying or different. Perhaps you've been dreaming of returning to your favorite restaurant only to go there and feel like you prefer to be at home. Or perhaps you are eager to travel, but the idea of getting on a plane is overwhelming. Don't be afraid to say no to things you are not yet comfortable doing. Listen to and speak respectfully to family and friends about what is reasonable and comfortable for travel and gatherings.
Realize self-indulgence is not overindulgence. A little pampering is vital for your well-being and for those around you. It can help you ease back into life. Many people have found comfort in classic TV shows that bring us back to a simpler time such as M*A*S*H, Happy Days, Andy Griffith and Lawrence Welk. Others have found comfort in simple pleasures such as premium chocolate (sales rose 21% during the pandemic!) or athletic leisurewear.
Minimize risk with lifestyle choices. The pandemic has taught us that being young doesn't guarantee your health. Having two or more health concerns greatly increased your risk for fatal infection. Lifestyle choices matter. Take care to exercise regularly (in consultation with your physician), make healthy food choices, practice method to reduce stress, get proper sleep and make time for social interaction.
Technology is your friend. COVID-19 has increased adoption of online activities such as banking, grocery ordering, telehealth, shopping and connecting virtually with family and friends. Many of these things will remain in our lives as we continue to digitize and enjoy the convenience these online amenities provide.
Get Back to Nature. Spending time in nature can help you appreciate the world and boost your mood. Getting outside provides a positive perspective on nature's beauty. If going outside isn't possible, bring the outdoors in by watching nature videos or opening a window to listen to the soothing sounds of nature.
Returning to in-person activities won't look the same or feel the same to any two people – and that's okay. Think positive and, in time, you will get there! And remember, you are not alone on this journey. If you find yourself struggling to get back in in-person life, seek guidance from a trusted family member, friend or professional.
https://www.homelandathome.org/wp-content/uploads/2021/07/walk-in-park_small-1024x684-1.jpg
684
1024
Wendy Shumaker
https://www.homelandathome.org/wp-content/uploads/2022/08/homeland-at-home-updated-logo-2022.png
Wendy Shumaker
2021-06-08 14:39:51
2022-11-30 16:25:44
Returning To the In-Person World