test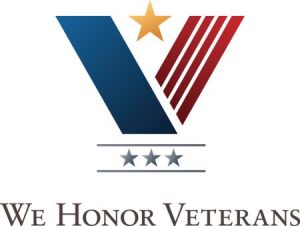 Homeland Hospice joins other hospice providers across the country in honoring our Nation's Veterans and is listed as a participating provider on the We Honor Veterans website. By being a We Honor Veterans Partner, Homeland Hospice is better prepared to build professional and organizational capacity to provide quality care for Veterans, to strengthen partnerships with Department of Veteran Affairs (VA) and other Veteran organizations, and to increase access to hospice and palliative care for Veterans living in their community.
The Veteran-to-Veteran Volunteer Program aims to pair recruited Veteran Volunteers with hospice patients who have been identified as Veterans. Once paired with hospice patients who also have military experience, Veteran Volunteers have the unique ability to relate and connect with each patient thereby creating an environment where healing may occur.
From the National Hospice and Palliative Care Organization (NHPCO) and the We Honor Veterans Program comes this acknowledgment… "Your activity report reflects your organization's commitment to ensuring Veterans have access to quality end-of-life care. All of us at NHPCO appreciate your ongoing efforts and dedication. Thank you again for your dedication to caring for Veterans and their families."
We Honor Veterans (www.WeHonorVeterans.org) is a national hospice provider awareness campaign conducted by the National Hospice and Palliative Care Organization (NHPCO) in collaboration with the Department of Veterans Affairs (VA).
https://www.homelandathome.org/wp-content/uploads/2022/08/homeland-at-home-updated-logo-2022.png
0
0
Homeland At Home
https://www.homelandathome.org/wp-content/uploads/2022/08/homeland-at-home-updated-logo-2022.png
Homeland At Home
2017-06-28 17:03:04
2017-06-28 17:03:04
Homeland Hospice Receives We Honor Veterans Partner Level Three