test
Capital City Airport honors local pilots, looks to the future
This article is re-posted with permission from the Central Pennsylvania Business Journal
By: Dan Miller, Contributing Writer  |  July 19, 2022 8:28 am
Capital City Airport celebrated its past with an eye towards the future during an event held on Friday July 15.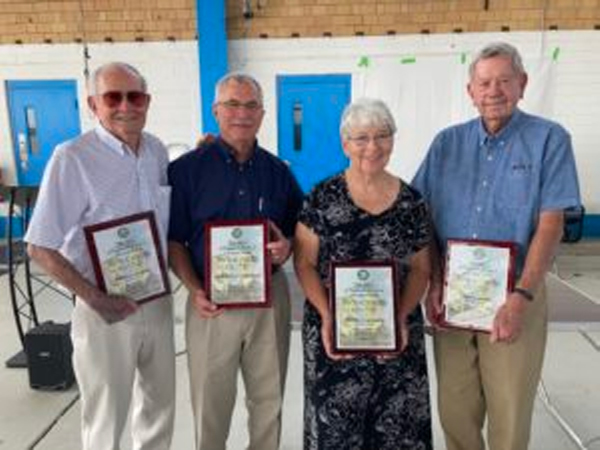 With about 100 invited guests looking on inside the iconic Skyport Aviation Texaco Hangar, four midstate individuals with close ties to the airport were presented with the Federal Aviation Administration's prestigious Wright Brothers Master Pilot Award – from left, Larry Bashore of Mechanicsburg, Michael Bowser Jr. of Wellsboro, Judy Redlawsk of Etters, and Robert Klenke of Camp Hill.
Named for Orville and Wilbur Wright, the award recognizes pilots who have demonstrated professionalism, skill and aviation expertise by maintaining safe operation for 50 or more years.
Lee Janik, who organized the event and a 2012 recipient of the Master Pilot Award, noted Redlawsk was to receive the award in early August 2020 but that her presentation was canceled due to the COVID-19 pandemic.
Following Redlawsk the FAA approved the award for Basehore, Bowser and Klenke. The airport has only recently resumed holding public events in person, so Janik decided to hold one big ceremony to present the awards to all four pilots at once.
A fifth pilot, Jim Zelesko, will receive the award later after the FAA completes its review process, the FAA's Rick Harowicz said during the ceremony.
Janik also broadened the scope of the event to celebrate the nearly 100-year history of Capital City Airport, and to acknowledge the businesses and organizations that today have a presence on the airport.
These include Skyport Aviation, Cargill Aeronautical Academy and Service Center – the airport's flight school – Harrisburg Pilots, Aerostar, Pennsylvania State Police, Pennsylvania Bureau of Aviation, Midwest Air Traffic Control Services, Civil Air Patrol, Chapter 122 of the Experimental Aircraft Association, U.S. Coast Guard Auxiliary, and the many corporate and private aircraft owners who use Capital City.
The event also recognized organizations like EAA that give scholarships to young people pursuing aviation careers.
The newest is Pilots With A Purpose, a non-profit organization founded in 2020 with the mission of enabling more women, African-Americans and those from other minority communities throughout south central Pennsylvania to pursue careers in aviation.
Pilots With A Purpose just received its first grant to help fund scholarships for young people to attend the Cargill flight school, which is partnering with Pilots With A Purpose.
The first two students to attend the school through Pilots With A Purpose will be selected by about September, said
Susan Adams, the flight school owner who represents Cargill on the Pilots With A Purpose board of directors.
Redlawsk completed her first solo flight in 1967 at Chicago Midway Airport, obtaining her private pilot's license in 1968 and her commercial license in 1969.
Her resume includes being a helicopter instructor, maintaining 350 to 400 flight hours a year, being a licensed U.S. Coast Guard captain and a flight examiner and instructor for the Coast Guard Auxiliary, and from December 1975 to now advancing with the Harsco Corp. to her current position as the company's director of aviation.
She also plays the flute, saxophone, bassoon and the harp.
Basehore's flight career began with the military with his first solo in a T-34B aircraft at Naval Air Station Pensacola in 1967. He flew helicopters in Vietnam as a Marine and started work for Clark Aviation on Capital City Airport in 1971 as a part-time instructor. He was president of the Pennsylvania Chapter of the International Aerobatic Club for more than 20 years.
Klenke made his first solo flight in 1957, learning to fly while in the U.S. Navy with whom he made 100 landings day and night on aircraft carriers.
Klenke went on to a 32-year career as an airline pilot, starting with Mohawk Airlines which merged with Allegheny to become USAir.
Janik told the crowd Klenke told him his love of flying was such that in all those 32 years, "he never went to work."
Bowser came to Capital City as a flight instructor for Clark Aviation after attending Montana State University in the professional aviation curriculum.
At 23 Bowser became a captain with Pennsylvania Commuter Airlines but then decided to become a dentist, eventually opening a practice in York. Bowser continued his aviation career as a flight instructor and aircraft owner.
Located just outside New Cumberland in York County, what is now Capital City Airport was once a potato farm and was dedicated to become an airport on Aug. 16, 1930, according to research Redlawsk shared in her opening remarks.
The original construction cost of $252,000 was funded by 800 people in a public sale of stock. The airport consisted of 214 acres of farmland that was purchased and another 79 acres that was leased.
Charles Lindbergh was a technical advisor for Transcontinental and Western Air Inc. – better known as TWA – and twice flew into the airport in October 1930, being greeted by more than 5,000 people each day,
Redlawsk said. Passenger service began that same October.
In 1936 the Commonwealth of Pennsylvania took possession of the airport and named it Harrisburg York Airport.
The airport was later renamed Capital City Airport and since 1999 has been owned and operated by the regional authority that also owns Harrisburg International Airport, Susquehanna Area Regional Airport Authority.
"We're very proud of the history that has happened here at Capital City Airport and we're proud of the things that will come at Capital City Airport and the stories that we are going to celebrate in another year, five years, 10 years and 20 years," said Marshall Stevens, deputy executive director of HIA who represented the airport authority at the event.
Capital City Airport had 31,408 operations – take-offs and landings from 7 a.m. to 9 p.m. – in 2021, a 27.1 percent increase over 2019, according to authority statistics posted on the HIA website.
The airport has had 9,762 operations through May of 2022, down 23.6 percent from the same time in 2021.
2021 was "a huge year" for operations at Capital City, with more corporate jet flights in and out and increased activity at the flight school, airport spokesman Scott Miller told Central Penn Business Journal.
However, Capital City is more vulnerable to bad weather conditions impacting operations than HIA. A worse winter compared to 2021 and the significant increase in the price of fuel are the two factors most responsible for the drop in activity at Capital City this year compared to last, Miller said.
https://www.homelandathome.org/wp-content/uploads/2022/08/larry-bashore-pilot.jpg
450
600
Wendy Shumaker
https://www.homelandathome.org/wp-content/uploads/2022/08/homeland-at-home-updated-logo-2022.png
Wendy Shumaker
2022-08-12 10:09:15
2022-09-15 15:34:36
Homeland Board of Trustee Member, Larry Bashore, presented with the prestigious Wright Brothers Master Pilot Award