test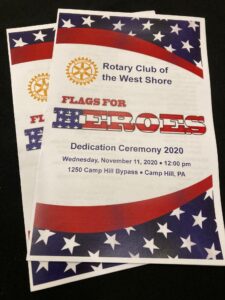 On the 11th hour of the 11th day of the 11th month in 1918, President Woodrow Wilson signed the armistice that ended World War I. The following year, President Wilson led the country in celebrating Armistice Day to reflect upon the heroism of those who died in service to our country during the war. In 1954, Armistice Day became Veterans Day to honor all veterans serving our country.
This year, Homeland Hospice and Homeland Center paid tribute to veterans through Flags for Heroes, a first-time event led by the Rotary Club of West Shore. Homeland is a nonprofit program that serves communities throughout Central Pennsylvania.
From November 8-15, 160 American flags will fly along the Harvey Taylor Bridge Bypass, a busy corridor leading into the City of Harrisburg. Representatives from Homeland Hospice, the Rotary Club of West Shore and members of our community celebrated this inaugural event with a special dedication ceremony on Veterans Day.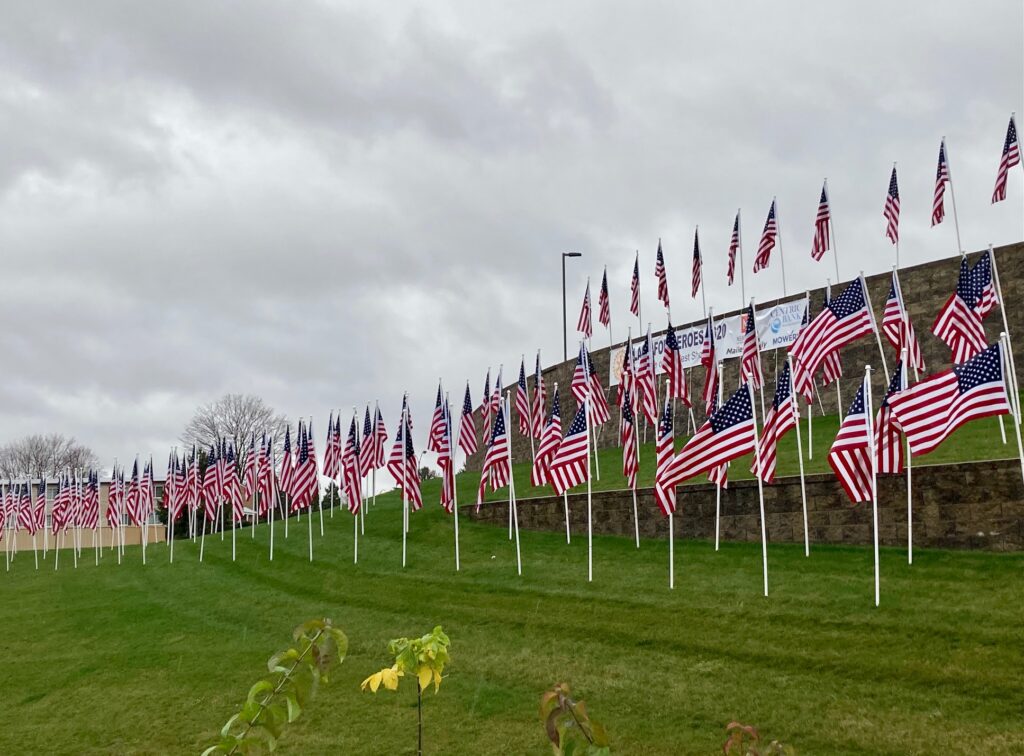 "We want the flags to send a positive message during these challenging times," says Rod Hite, president of the Rotary Club of West Shore. "We are overwhelmed by the number of community organizations supporting the event."
For Rod and his fellow Rotarians, the challenges of the COVID-19 pandemic have shed light on the heroism of front-line workers like doctors, nurses and other caregivers. Through this year's event, flags could be sponsored in honor of someone who has made a difference during the pandemic as well as a veteran for his/her service to our country.
"Rotary and Homeland share similar values," Rod adds. "We have great love and respect for our community and country."
For Homeland Hospice, honoring veterans is part of the organization's core values. For more than eight years, Homeland has been part of the We Honor Veterans program, created by the National Hospice and Palliative Care Organization (NHPCO) in collaboration with the Department of Veterans Affairs (VA).
Through the We Honor Veterans program, hospice volunteers who served in the military meet with veterans during their end of life journey. Patients are given a special pin, which represents their branch of service, as well as a small flag and certificate. The pinning ceremony ends with a salute, veteran to veteran. In this special moment of time, the patient can experience the proud memory of his/her first salute and the love and respect of an entire country.
While the COVID-19 pandemic has limited the number of volunteers who can visit patients, Homeland has kept the We Honor Veterans program strong with a smaller contingent of people participating in the pinning ceremony.
"Veterans hold a special place in our hearts and minds," says Myra Badorf, B.A., Assistant Director of Development at Homeland Hospice. "We're proud to serve as a sponsor and partner of this outstanding community event."
For more information about the We Honor Veterans program visit www.WeHonorVeterans.org.
To learn more about Homeland's work with this program, call Homeland Hospice at (717) 221-7890.
https://www.homelandathome.org/wp-content/uploads/2021/01/IMG_1321-1024x756-1.jpg
756
1024
Wendy Shumaker
https://www.homelandathome.org/wp-content/uploads/2022/08/homeland-at-home-updated-logo-2022.png
Wendy Shumaker
2020-11-11 19:00:12
2022-05-19 14:32:55
Homeland Honors Veterans Through Flags for Heroes Event