test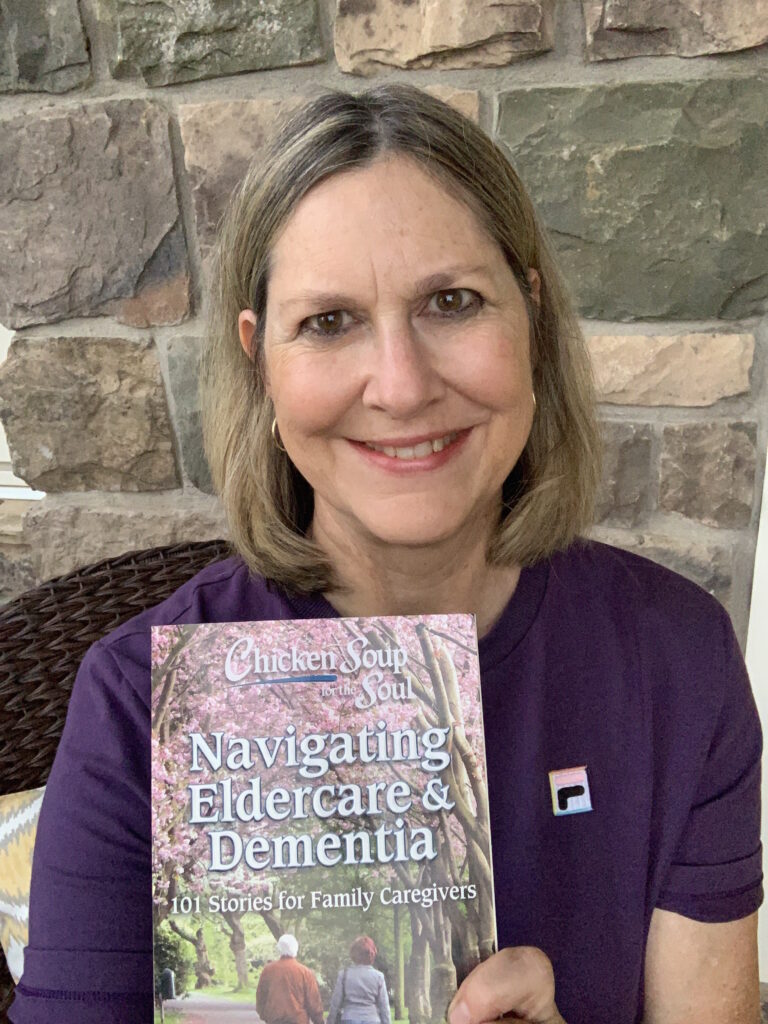 The words were in her heart and head. They were formed over a 24-month journey of caring for her father before his death and grieving his loss after his passing. Pattie Craumer of Mechanicsburg gave her words life in a short story published in June in Chicken Soup for the Soul: Navigating Eldercare & Dementia: 101 Stories for Family Caregivers. Her piece, "Behind the Things" tells the story of parting with material possessions and the memories they hold after the death of her father.
Pattie grew up in Camp Hill and moved to the western part of the country to raise her family. She moved back to the area seven years ago to be closer to her father, Bob. In the spring of 2019, Bob broke his neck during a fall. Over the following months, Bob spent time in and out of the hospital and rehabilitation homes before moving to Homeland Center. In his final days, he received services from Homeland Hospice.
"I wasn't able to be with my mother at the end of her life," Pattie says. "I wanted to spend each day possible with my father."
During Bob's final days, he received spiritual counseling and music therapy from a harpist. These services provided Bob and his family great peace during a difficult time.
"Homeland Hospice was essential to his end-of-life care," Pattie adds. "I wish I would have understood the scope of Homeland's services earlier. We certainly would have used them."
Following her father's passing, Pattie connected with Noelle Valentine, MSW, LSW, lead bereavement counselor for Homeland Hospice for bereavement support. Pattie and Noelle met a few times in person before the announcement of stay-at-home orders due to the COVID-19 pandemic.
Over the following months, Pattie and Noelle continued their counseling sessions over the phone.
"Noelle immediately understood what I was going through," Pattie says. "Our year-long time together was transformational for me."
Homeland's bereavement programs are available to the bereaved of Homeland's patients as well as anyone in the community who is experiencing grief. Bereavement support group meetings also are held on a rotating schedule throughout the year.
As Pattie and her siblings began cleaning out their parents' home, she was overcome by the stories behind each possession. Pattie experienced the dismantling of her parents' lives as two unforgettable lives unfolding again, but backwards. She decided to save a few key pieces of furniture with the hope of breathing new life into them in the future.
Pattie salvaged a high chair used by her parents' four grandchildren. After cleaning it up, she found a buyer on Facebook Marketplace who needed a second highchair to accommodate visits from her grandchildren.
"Knowing another family can make happy memories with this piece brought me so much joy," Pattie says. "In a small way, the story of my parents continues."
This culmination of losing her father, bereavement counseling and finding new purpose for her parents' belongings inspired Pattie to submit her story for publication. While Pattie has never called herself a writer, her mother, Natalie, always aspired to write. In many ways, Pattie's piece was a tribute to her mother's dream as much as an outlet to share her journey.
"Something meaningful came out of a painful experience," Pattie adds. "I hope my story can bring comfort to others."
Homeland Hospice is a nonprofit hospice program that serves communities throughout Central Pennsylvania. To learn more about Homeland Hospice's bereavement support, please contact Noelle Valentine at Homeland Hospice at (717) 221-7890.
https://www.homelandathome.org/wp-content/uploads/2021/09/Pattie-Craumerthumbnail.jpg
697
768
Wendy Shumaker
https://www.homelandathome.org/wp-content/uploads/2022/08/homeland-at-home-updated-logo-2022.png
Wendy Shumaker
2021-09-23 15:53:54
2022-05-13 14:58:49
Pattie Craumer Published in Chicken Soup for the Soul Series