test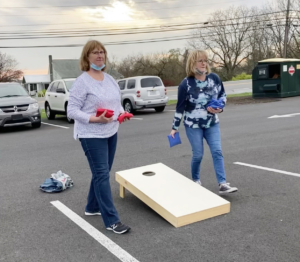 Over the years, Homeland has learned that bringing together a talented group of professionals working toward a shared mission results in a successful workplace. Providing opportunities for employees to get to know each other outside of their job duties builds a team and creates a culture of compassion and friendship. The staff at Homeland strives to create an engaging culture where employees have fun through volunteering and spending time together.
In April 2021, the directors and assistant directors of Homeland Hospice, Homeland HomeCare and Homeland HomeHealth formed the FUN Committee as a way for employees to take a break from the stress and demands of their jobs, which has dramatically increased since COVID-19 hit the region. The concept was to provide staff opportunities to participate in activities on a monthly basis.
"Many staff members work entirely in the field," Laurie Murry, volunteer coordinator for Homeland Hospice says. "These activities have given us a chance to get to know our coworkers we rarely see during the workday."
Laurie has taken the lead in organizing and implementing the activities. The first step was to survey staff to hear what types of activities piqued their interest as well as what the activities should be named. The staff voted to give back to help others as well as connect in different geographic areas throughout Homeland's vast footprint. As for the winning name; "Staffivities!" won the day.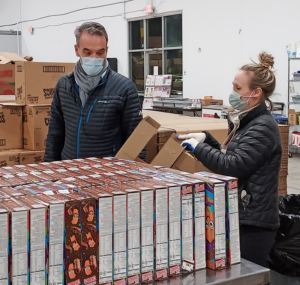 This summer, staff held a corn hole tournament with food trucks. Staff members who didn't know one another were paired together to play in the tournament. Since then, Homeland staff members have volunteered at the Central Pennsylvania Food Bank and collected coats for children in need living in Cumberland and Perry counties through the Warm the Children program.
To celebrate the holiday season, the staff held a cookie exchange and an office door-decorating contest. The team also helped make the holidays brighter for local children by providing gifts for children in need through a program led by Silence of Mary. This has been a Homeland tradition for many years. This year, the program expanded to include all of Homeland's outreach programs.
Most recently, Homeland staff participated in a deeply personal and heartfelt project in honor of their coworker and beloved friend Chaplain Mark Harris who passed away this fall. The staff purchased 11 wreaths through the Wreaths Across America program, which were placed at the Dauphin County Cemetery on December 17. To know Mark was to love and respect him for his deep well of compassion. Mark served Homeland Hospice as a spiritual counselor. As a former navy corpsman, Mark was involved in Homeland's We Honor Veterans program, which recognizes the bravery and sacrifice of veterans during their time in hospice.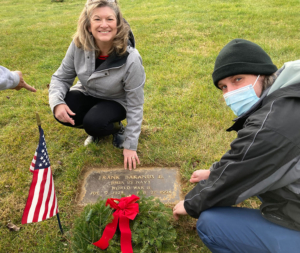 "Our staff members have big hearts," Kris Crockett, RN, BSN, CHPN, and Director of of Homeland Hospice said. "Working together to give back to the community has helped us create stronger bonds as coworkers."
Homeland Hospice, Homeland HomeCare and Homeland HomeHealth are outreach programs of Homeland Center to provide a continuum of care for patients and families in need.
For more information about Homeland at Home services, contact us at (717) 857-7400.
https://www.homelandathome.org/wp-content/uploads/2021/12/jamie-billman2.jpg
1002
720
Wendy Shumaker
https://www.homelandathome.org/wp-content/uploads/2022/08/homeland-at-home-updated-logo-2022.png
Wendy Shumaker
2021-12-28 13:06:48
2022-05-19 14:13:37
Homeland Creates a Culture of Teamwork and Fun