test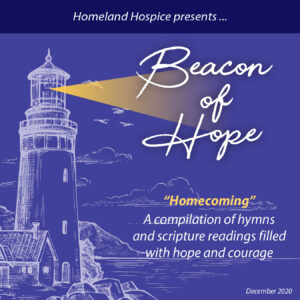 The sound of familiar melodies and lyrics can transport us back in time to the most poignant moments of our lives. Memories like listening to music while driving our first car to dancing on our wedding day become picture-perfect flashes in our minds after hearing a few recognizable chords.
Homeland Hospice has captured the power of music in a new compilation of popular hymns and scripture readings, which will soon be available for patients to download or listen to on CD. Homeland's chaplains, pastors and a music therapist performed the recordings. Homeland Hospice is a nonprofit hospice program that serves communities throughout Central Pennsylvania.
The inspiration for the CD came from patients who cherish their time of fellowship through music. Homeland is fortunate to have talented chaplains and pastors who share their love of music with patients during routine visits. In addition, Homeland offers music therapy as a complementary service to help patients manage pain and lift their spirits. Unfortunately, the COVID-19 pandemic has temporarily prohibited musical instruments in nursing homes.
"Patients may find comfort by listening to familiar voices," says Reynaldo (Rey) Villarreal, chaplain for Homeland Hospice. "Through this project, we can connect with our patients spiritually when we cannot be with them in person."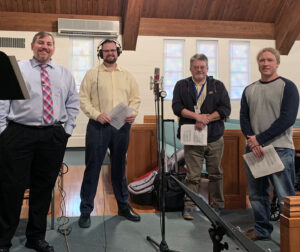 The music compilation is a true project of unity around a shared goal to bless others. The Charlton United Methodist Church in Harrisburg served as the performance location and Derek Sandstrom, director of worship ministries for Fishing Creek Salem United Methodist Church, helped direct the production.
"We hope our patients love listening to the recording as much as we loved creating it," Rey says. "Our spiritual team is bonded by a love a music and service to others."
While the CD is a new project for Homeland Hospice, a commitment to the therapeutic benefits of music has long been part of the organization's holistic approach to care. Homeland is certified in Music & Memory, a program to help aging Americans with cognitive and physical challenges find renewed meaning and connection in their lives through the gift of music.
"Music helps patients relive fond memories," says Laurie Murry, volunteer coordinator for Homeland Hospice. "Playing a patient's favorite song often helps them connect with family members and friends."
Homeland staff members ask patients about their favorite songs or artists and download their choices for a personalized playlist. Research shows that the music individuals are exposed to from the ages of 12-24 has the greatest impact on their lives.
"It's often the little things that make the greatest impact," Laurie adds. "We hope the gift of music brings comfort to our patients in their time of need."
Spiritual counseling is a component of Homeland's holistic approach to health care. Counselors and chaplains respect each individual's beliefs and offer support and encouragement. In addition, Homeland offers bereavement support to families for a full 13 months following the death of a loved one.
To learn more, please contact Homeland Hospice at (717) 221-7890.
https://www.homelandathome.org/wp-content/uploads/2021/01/Chaplain-CD_cover2-300x300-1.jpg
300
300
Wendy Shumaker
https://www.homelandathome.org/wp-content/uploads/2022/08/homeland-at-home-updated-logo-2022.png
Wendy Shumaker
2020-12-28 21:49:10
2022-02-24 12:25:34
The Healing Power of Music: Homeland Hospice Releases Music Compilation for Patients