test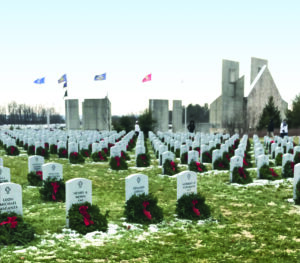 For many years, Homeland Hospice staff and volunteers have participated in Wreaths Across America, a movement to remember and honor fallen Veterans with wreath-laying ceremonies. Homeland has been in attendance and assisted with ceremonies held at Fort Indiantown Gap and at the Dauphin County Cemetery.
Like most of this year's events and activities, Wreaths Across America at Fort Indiantown Gap in Annville will have a different look. Despite the amended event, the ceremony will accomplish the same goal as in years past: to remember the fallen, honor those who serve and their families and teach our children the value and price of freedom.
On Saturday, December 19, instead of a live ceremony there will be a recorded event shared with media stations and available to watch on the Fort Indiantown Gap and Wreaths Across America Indiantown Gap Facebook pages.
Due to crowd-size restrictions, wreath placement will also look a lot different. Wreath placement will not be open to the general public but will instead be completed by Wreath Distribution Security Teams and Sponsorship Groups during specific time slots throughout the day.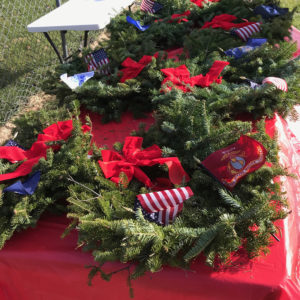 In stark contrast to the Fort Indiantown Gap ceremony involving crowds, dignitaries, beautifully landscaped grounds, rows of white tombstones, and thousands of wreaths, Homeland Hospice also supports a second, more secluded Wreaths Across America ceremony held at the Dauphin County Cemetery. Also known as Potter's Field, this is an obscure cemetery tucked behind industrial buildings along Gibson Boulevard in Swatara Township.
Homeland Hospice became involved two years ago when Volunteer Coordinator Laurie Murry researched local Wreaths Across America events. "My heart was immediately drawn to this cemetery and the people who have found this as their final resting place," said Laurie.
The cemetery's background is not unlike that of Homeland. Originally chartered as the "Home for the Friendless," Homeland was founded to support the dependents – widows and children – of Civil War soldiers. "Continuing that tradition of recognizing the forgotten just seems like the right thing to do," said Laurie.
Homeland Hospice has been involved with the ceremony at Dauphin County ceremony for the past two years. Six to eight Hospice staff and volunteers, along with the site coordinator Suzanne Sheaffer meet at noon and share in a small, informal ceremony. Wreaths are decorated to represent each military service branch and hung on the chain link fence surrounding the small field. A wreath is placed at the tombstone of the one identified veteran and other wreaths are placed throughout the field should there be any unidentified veterans.
Many poor, homeless, and unclaimed bodies have been buried at Potter's Field for generations. "PennLive reported in a story about the cemetery that some could be veterans from as far back as the Civil War. Everyone who has sacrificed for the benefit of our country deserves to be remembered and honored. This is just one way we can do that," said Laurie.
________________
For information about Homeland Hospice and volunteer opportunities, call (717) 221-7890.
https://www.homelandathome.org/wp-content/uploads/2021/01/IMG_2151-Ft-Indiantown-Gap-300x263-1.jpg
263
300
Wendy Shumaker
https://www.homelandathome.org/wp-content/uploads/2022/08/homeland-at-home-updated-logo-2022.png
Wendy Shumaker
2020-12-14 19:09:32
2022-05-19 14:33:45
Wreaths Across America 2020