test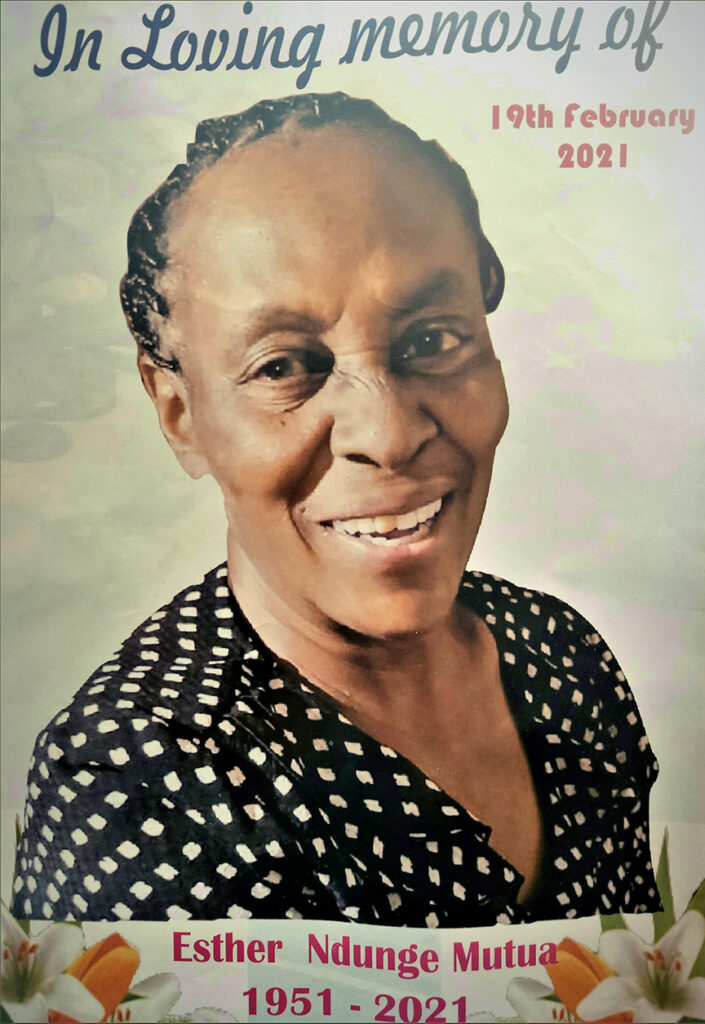 Chinese philosopher Lao Tzu once said, "The journey of a thousand miles begins with one step." For many of us, taking that first step requires the support and guidance of others. Recently, the staff at Homeland Hospice helped Esther Mutua take that first step to secure medical clearance and support services to travel more than 7,000 miles to her home in Nairobi, Kenya to spend time with her family during her end-of-life journey.
Esther's story began last spring when she was diagnosed with stage four-pancreatic cancer while visiting her daughter Rachel White in Harrisburg. Esther and her husband frequently traveled between their home in Nairobi to Harrisburg to spend time with Rachel, their son, and grandchildren.
"My mother loved spending time with all of her family," Rachel says, "While she traveled often, her home and heart were always in Nairobi."
After learning of her diagnosis, Esther began medical treatment to combat the cancer. When all treatments and medical options were exhausted, she decided to return to Nairobi for her remaining days. Rachel planned her mother's return to Nairobi beginning at John F. Kennedy (JFK) International Airport and connecting with Kenya Airways. At JFK, Rachel learned her mother needed a special form from her doctor to allow her to travel. Esther was turned away from her flight and dream of going home.
When the family returned to Harrisburg, a friend recommended Homeland Hospice to Rachel to help provide pain management, comfort and support to Esther. Homeland Hospice is a nonprofit hospice program that serves communities throughout Central Pennsylvania. Esther received a team of care to include a registered nurse case manager, hospice medical director, attending physician, volunteer coordinator, social worker, counselor and nursing aide assistants.
During their initial visit, Laurie Bassler, social worker, and Franchesca Washington, RN, learned about Esther's wish to travel home to her country.
"Our work is about putting the patient first," Laurie says. "We immediately went into action to make this happen."
Over the following weeks, Laurie completed the necessary paperwork for Esther and advised the family about connecting with visiting nurse support for Esther once she returned to Nairobi. Franchesca secured a wheelchair and prescriptions. Esther, accompanied by family members, was able to return home earlier this year. She spent her final two weeks surrounded by her siblings, children, grandchildren, great grandchildren and friends.
"We were with Homeland for a short time, but they gave us hope." Rachel says. "We have comfort and peace knowing my mother's wishes were honored."
For Laurie and Franchesca, fulfilling this request was part of a job they love. The hospice team works diligently to understand all of their patient's needs and desires, as well as those of the family.
"I love being part of a team that strives to overcome every hurdle," Laurie says. "It's a privilege to work with our hospice families."
Homeland Hospice serves 14 counties throughout central Pennsylvania, providing end-of-life care either in a person's home or wherever they reside, including nursing facilities. Homeland staff becomes even more closely involved as death approaches. This is one of hospice's greatest strengths – helping the patient and loved ones cope as a person approaches life's end.
To learn more, please contact Homeland Hospice at (717) 221-7890.
https://www.homelandathome.org/wp-content/uploads/2021/07/Esther-Mutua_sm-705x1024-1.jpg
1024
705
Wendy Shumaker
https://www.homelandathome.org/wp-content/uploads/2022/08/homeland-at-home-updated-logo-2022.png
Wendy Shumaker
2021-03-08 19:10:50
2022-05-19 14:15:30
Esther Mutua's Journey Home