test
"The clouds are starting to part thanks to this great network of support," Cathy remarks at a recent women's luncheon provided by Homeland Hospice. "We understand each other because we're all going through the same thing."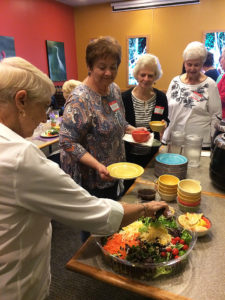 Cathy has attended the women's luncheon series since it was launched last year. She learned about the monthly luncheons while participating in Homeland's six-week bereavement support group.
Homeland Hospice provides bereavement support through phone calls, mailings, one-on-one consultations and support groups up to 13 months after the death of a loved one. Support groups offer self-awareness, healing, helping others, a sense of community and coping skills.
Cathy credits Homeland's support, and the positive attitudes of her "luncheon friends," with helping her cope with the death of her husband.
"After the luncheon in April, I felt so good I encouraged a friend from the luncheon to book a cruise with me," Cathy adds. "We're heading to Bermuda!"
At the luncheon in May, attendees talked about their challenges and joys during the past month and plans for the coming month. Returning attendees, like Cathy, helped welcome new guests to the group.
"The first time I came to a luncheon, I didn't know anyone," Peggy says. "I was sad and lost. I didn't know how to start the conversation about who I was going to be, but everyone understood."
"These are my people," Peggy adds with a laugh.
This shared understanding of grief makes the women's luncheon series a dynamic time for women to navigate their journey in a safe and supportive space. No topic is off limits and everyone has an opportunity to share.
At the recent luncheon, attendees laughed when telling a favorite story of a loved one, as well as discussed poignant topics, like donating their deceased spouses' clothing to charity. Whatever the subject, all voices were heard and supported.
"This is a place where you can talk about the difficult topics no one wants to discuss," Peggy adds. "We share our ups and downs."
At the end of the luncheon, Brian Medkeff-Rose, M.Div., M.A., Bereavement Counselor at Homeland Hospice reminded attendees about the process of grief.
"We never stop grieving," Brian says. "Transformation is part of the process and we're here for you each step of the way."
The Women's Soup and Salad Luncheons are held the third Friday of each month from 11:30 a.m. to 1 p.m. at Isaac's Grill at the West Shore Plaza.
Homeland Hospice's bereavement support program is available to the bereaved of Homeland's patients as well as anyone in the community who is experiencing grief.
To learn more, please contact Brian Medkeff-Rose at Homeland Hospice at (717) 221-7890.
https://www.homelandathome.org/wp-content/uploads/2022/08/homeland-at-home-updated-logo-2022.png
0
0
Wendy Shumaker
https://www.homelandathome.org/wp-content/uploads/2022/08/homeland-at-home-updated-logo-2022.png
Wendy Shumaker
2018-05-31 01:26:35
2022-01-24 12:45:33
Finding Strength and Friendships Through Women's Luncheon Series