test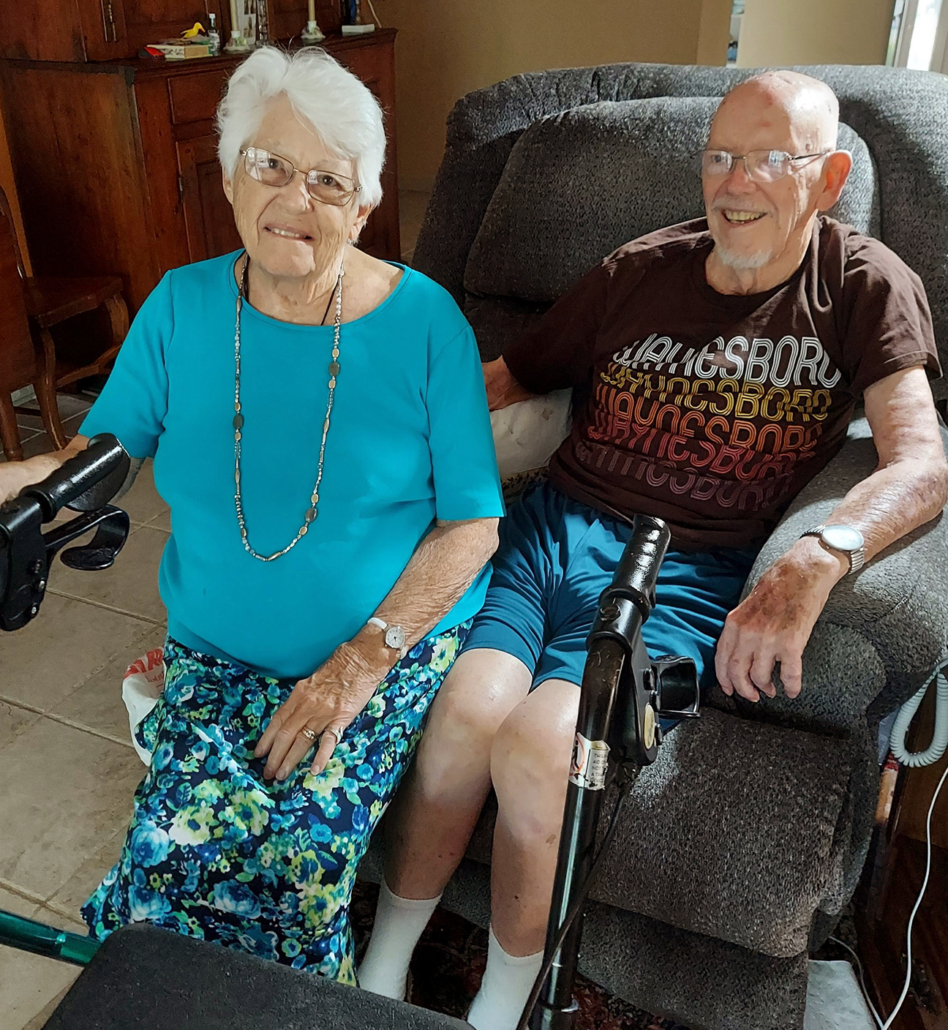 Carol and Joe Moomaw of Mechanicsburg have known and loved each other all of their lives. As children they played together with Joe often pulling Carol's ponytail to get her attention. The couple dated throughout high school with each going their separate ways after graduation. Some years later, Carol and Joe reunited and married after a six-week courtship. Through their friendship, love and respect for one another, they have created a steadfast bond to sustain life's challenges. Two years ago, Joe was diagnosed with Lewy body dementia and is receiving services from Homeland Hospice, a hospice program that serves communities throughout Central Pennsylvania
After their courtship in high school, Joe attended the University of Pennsylvania, then law school. His final two years were completed at Dickinson School of Law, followed by three years working in the Assistant Attorney General's Office in Harrisburg. Joe left his position with the Assistant Attorney General's Office to open a law practice. He was retained by his father's company, Interstate Tax Service, Inc., which provided unemployment compensation consulting services for employees, as the General Counsel. This family business, which was one of the first of its kind in the region, grew into a family legacy.
Carol attended Bucknell University for three years after high school, then married and had four children. She would occasionally see Joe at community events in their hometown of Waynesboro. After Carol's husband died, she connected with Joe at a dinner dance. Carol and Joe's longtime mutual friend Marilyn helped arrange the date. Marilyn's match-making was a success and soon the couple was dating.
As a single mother, dating Carol included her children, which Joe loved. Carol often relied on the babysitting services of her friend Mary. After one date, Carol's daughter Dawn asked her mother how to spell Mary's name. Carol recited the letters to Dawn who quickly produced a note for Joe. The note said, "Will you Mary my mom?" Joe immediately said yes.
"It was the sweetest proposal," Joe and Carol recall. "Dawn wrote the words we were both thinking."
The couple married six weeks later on Christmas Eve. Marilyn and her husband served as the maid of honor and best man.
"I have always known Joe so reconnecting was easy," Carol says. "It was like no time had passed."
Joe and Carol's life blossomed as time passed. They had two sons together. Joe adopted Carol's four children and they raised a happy, close-knit family. Today, they have 14 living grandchildren and 10 great-grandchildren. Professionally, Joe continued to grow Interstate Tax Service, Inc., which is now run by the fourth generation of Moomaws.
Carol and Joe tackle his Lewy body dementia as a team. The disease impacts Joe's   thinking, memory and movement. When Joe struggles to recollect a memory, Carol is quick to help fill in the missing pieces. With the help of family members and Homeland Hospice, Carol helps care for Joe in the comfort of their home.
Joe's Homeland team includes a nurse case manager, who has helped the couple secure a hospital bed and other necessary equipment, and a home health aide. Carol and Joe also receive 32 hours of in-home support, which gives Carol time to attend to her own needs. Homeland Hospice is the only hospice agency in Central Pennsylvania that offers an in-home relief program to all patient families.
Carol and Joe's route to finding one another was not direct, but it was a path they both love and are happy they took. From single businessman to father of four in the course of a few months, Joe always adapts to the challenges and opportunities each day brings.
"I've loved every minute of it," Joe says. "I am a fortunate man."
For more information about services for patients and families, call Homeland Hospice at (717) 221-7890.
https://www.homelandathome.org/wp-content/uploads/2022/09/Moomaws.jpg
1408
1296
Wendy Shumaker
https://www.homelandathome.org/wp-content/uploads/2022/08/homeland-at-home-updated-logo-2022.png
Wendy Shumaker
2022-09-02 16:09:47
2022-09-15 15:33:26
A Lifetime of Love: Carol and Joe Moomaw