test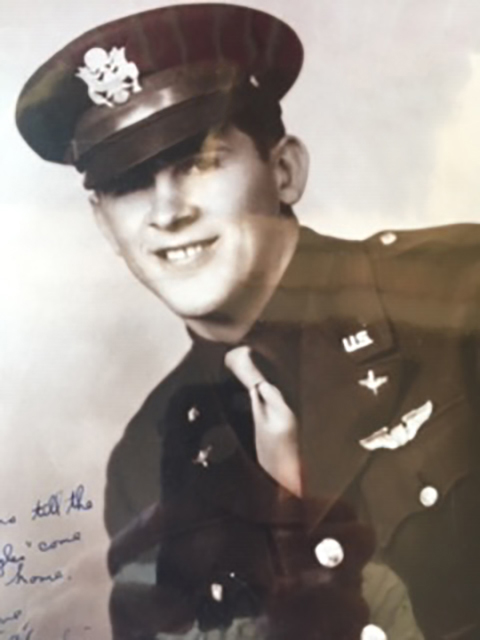 Major Henry "Hank" Heim planned every detail of his funeral. Similar to the funeral of President John F. Kennedy, Hank wanted his final farewell to represent valor, honor and duty with representation from active service members. For Hank, his funeral would be a love-letter to the country he honored and served.
Sadly, Hank died in early April, a few weeks shy of his 99th birthday. His passing during the COVID-19 pandemic has put a temporary hold on his funeral plans.  COVID-19 also prevented his son and daughter-in-law, who have health issues, from being with him during his final days. Fortunately, Hank's granddaughter visited him daily, offering him comfort and support.
Hank lived at Messiah Village in Mechanicsburg. As his health declined, he received nursing care and support through Homeland Hospice. Homeland Hospice is a hospice program that serves communities throughout Central Pennsylvania.
"As I learned more about Hank, I knew we must do something to honor him, " says Hannah Miller, BSN, RN with Homeland Hospice. "He was an inspiration and true American hero."
Hannah and her team decided to purchase an American flag to drape over Hank's body after his passing. Knowing the challenges currently facing small businesses, Hannah contacted Ace Hardware in Lemoyne and described the circumstances. The team at Ace went into action and found a flag. They insisted on donating it after learning about Hank's remarkable service to our country.
Hank was born into a poor, coal-mining family. At age five the family moved from Trevorton, Pennsylvania to Wiconisco, a small town in Dauphin County. When he wasn't in school, Hank helped his father in the mines. His adolescent years were fraught with challenges. Coming from the poorest family in town, Hank was often the subject of ridicule at school. His high school classmates voted Hank "least likely to succeed" because of his circumstances.
"These words stayed with my father," says Tom Heim, Hank's son. "They didn't defeat him, rather, they made him more determined to succeed."
At 17, Hank was working in the mines when he was trapped in a cave-in. His father worked furiously through the shale to save his son. This near-death experience ended Hank's time in the mines. Soon after, Hank joined the U.S. Air Force.
Hank was stationed Hickam Air Force Base in Hawaii the morning of December 7, 1941, when the Imperial Japanese Navy Air Service attacked the Pearl Harbor Naval Base and neighboring Hickam Air Force Base. Hank witnessed the fall of friends and brothers in arms.
As the U.S. fully engaged in World War II, Hank wanted to do more for his country. He noticed a poster advertising the need for pilots. Hank asked to enter flight school and was told he would never pass the test because he was "just a high school kid" and not a college graduate.
Hank was determined to become a pilot and wouldn't be deterred. He completed flight school and was the first student in his class to solo a flight. Hank was one of two non-college graduates to successfully pass the course.
"My father was used to being underestimated," Tom says. "Time and time again, he proved people wrong."
Hank became a B-17 bomber pilot completing 78 missions in North Africa, Sicily and Germany. At the time, most pilots completed an average of nine flights before they were shot down. When the Korean War broke out, Hank flew the B-29 bomber for 51 missions. His courage was second to none.
Following his time in the military, Hank returned to a quiet life in New Cumberland with his wife and two children. He went on to work as a construction foreman for Bell Telephone for 30 years.
Hank's assimilation to family life was seamless and very much in line with other soldiers of his generation. He never spoke about his military experience or shared stories of his flights with his children until he was approached to speak at a local high school.
"A friend of mine was a history teacher and asked my dad to speak to his students," Tom recalls. "My mouth dropped when he began to speak. I couldn't believe what my father had experienced."
As Hank began opening up to his children, they learned about the many friends he lost in the military and his near-death experiences as a pilot.
"It's a surreal moment when you realize your father has shaped American history," Tom adds. "He is every definition of a hero."
In his retirement, Hank spoke to countless high school students bringing the realities of war into the classroom. He spoke to the students with warmth and grace, never wanting to frighten them, merely sharing the often unspoken perils of war.
Hank was a member of the Central Pennsylvania World War II Roundtable and was featured in a documentary produced by PCN on World War II veterans. He also shared his story with local news stations and newspapers.
For his valor, courage and service to our country, Hank received the Distinguish Flying Cross, the highest honor bestowed by the Air Force. He is featured in the Smithsonian National Air and Space Museum in Washington, D.C. He also received two Purple Hearts and two Presidential Unit Citations in addition to countless accolades for his heroism.
During Hank's final days he found comfort in music. While his right foot was paralyzed due to a result illness, he kept perfect time with his left foot to John Phillip Sousa's military marches.
"I'm so proud of my father," Tom says. "As a father, husband and American, he was remarkable in every way."
Godspeed Major Heim.
To learn more about Homeland Hospice, please call (717) 221-7890.
https://www.homelandathome.org/wp-content/uploads/2020/04/major-henry-heim.jpg
640
480
Wendy Shumaker
https://www.homelandathome.org/wp-content/uploads/2022/08/homeland-at-home-updated-logo-2022.png
Wendy Shumaker
2020-04-27 17:12:26
2022-06-13 15:08:50
Honoring a Hero During the COVID-19 Crisis