test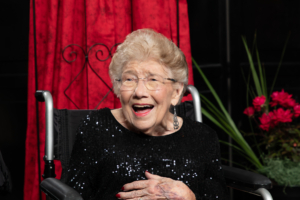 Homeland Center celebrated its 155th anniversary this past spring at Hilton Harrisburg with an evening fit for a queen. The celebration honored Betty Hungerford, affectionally known as "Queen B," and was an occasion for Homeland's history books. Attended by more than 450 people, the event raised more than $1.1 million to support Homeland's benevolent care programs, which provide assistance for individuals in need of care.
For two decades, Betty Hungerford served as the director of development for Homeland Center. Homeland is a private, nonprofit retirement community in Harrisburg. To know Betty is to know Homeland, for she is a steadfast champion of the organization. Earlier this year, Betty celebrated her 90th birthday. Betty's birthday, coupled with her decades of service to Homeland Center, made it the perfect time to honor two cherished treasures in our region.
"I am humbled by the outpouring of support for our anniversary event," Betty said. "It is a privilege to be part of Homeland's work. Homeland has always been more than just a job to me, it's a primary passion in my life. It was so humbling to see others recognize and contribute to the work and services we offer. It is because of those who believe in the work we do that we can continue to serve our community with such passion and dedication. For that, I am forever grateful."
Betty is known to local community and business leaders as one of the greatest of the Greatest Generation. She is a force of compassion, committed to improving the human condition in our region.
"No one can do everything, but everyone can do something," Betty likes to say.
Betty's "something" has been to change the charitable giving landscape to advance the causes she is most passionate about.
For Betty, there is little separation between her personal and professional life, for she loves each fiercely and finds true joy and purpose in her work.
As our Queen B, Betty created a remarkable personal and professional life by building and maintaining strong relationships. Betty's pride and love for her children and grandchildren is abundant as is her belief in her "adopted children," a name Betty uses for the countless men and women who were friends of her children or neighbors. She has remained by their side as they have grown into adulthood. She is never too busy to stop and appreciate their professional achievements or milestone events in their personal lives.
Betty's secret to success is simple – love what you do and surround yourself with people who are destined to bloom. Betty has certainly done just that, and has created a legacy that will be remembered for generations.
Homeland was founded in 1867 as the "Home for the Friendless" to serve families impacted by the devastation of the Civil War. Today, Homeland Center is a personal care home, memory care home, skilled nursing facility and rehabilitation facility. Homeland also provides hospice, home care, home health and palliative care services to serve the diverse and changing needs of families throughout central Pennsylvania.
We are grateful for the extraordinary generosity of local corporate and individual sponsors who made our 155th anniversary celebration a success.
To view event photos, visit our 155th celebration photo gallery at HomelandEvents.org.
https://www.homelandathome.org/wp-content/uploads/2022/10/Homeland_Center_155th_05152022-0159.jpg
1365
2048
Lauren Gorbey
https://www.homelandathome.org/wp-content/uploads/2022/08/homeland-at-home-updated-logo-2022.png
Lauren Gorbey
2022-10-20 09:27:52
2022-12-16 14:52:52
155th Anniversary Event an Evening Fit for a Queen