test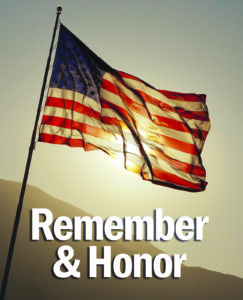 The last Monday in May is recognized as Memorial Day, a special time to remember soldiers lost in wars and conflicts. Small towns hold parades and families come together for picnics. As a country, the president or vice president lays a wreath at Arlington National Cemetery at the Tomb of the Unknown Solider.
While social distancing from COVID-19 will prevent picnics and parades this year, one thing will remain the same. The American flag will fly on front porches, community centers, and in cemeteries coast to coast reminding us of the bravery of our veterans.
For Homeland Hospice, honoring veterans is part of the organization's core values. For more than eight years, Homeland has been part of the We Honor Veterans program, created by the National Hospice and Palliative Care Organization (NHPCO) in collaboration with the Department of Veterans Affairs (VA). Homeland Hospice is a nonprofit hospice program that serves communities throughout Central Pennsylvania.
Through the We Honor Veterans program, hospice volunteers who served in the military meet with veterans during their end of life journey. Patients are given a special pin, which represents their branch of service, as well as a small flag and certificate. The ceremony ends with a salute, veteran to veteran. In this special moment of time, the patient can experience the proud memory of his/her first salute and the love and respect of an entire country.
"It's a pleasure to see the glow on the faces of veterans," says Andy Lank, a volunteer with Homeland Hospice. "I'm proud to be part of this amazing program."
Andy served in the United States Navy for four years, including one tour in Vietnam. Through his military experience, Andy understands the circumstances many patients faced and enjoys hearing about their military service.
"It can be quite emotional for patients and their families," Andy adds. "Overall, the experience brings everyone peace."
John Good, chaplain for Homeland Hospice is part of the program. While not a veteran himself, John holds a special place in his heart for those who have served our country.
"I'm humbled to help our distinguished veterans," John says. "It's an honor to help them find comfort after their sacrifice for us all."
To honor and remember those on Memorial Day, you can join fellow Americans at 3 p.m., in a moment of silence.
For more information about the We Honor Veterans program visit WeHonorVeterans.org.
To learn more about Homeland's work with this program, call Homeland Hospice at (717) 221-7890.
https://www.homelandathome.org/wp-content/uploads/2020/05/flag-at-sunrise_shutterstock.jpg
300
243
Wendy Shumaker
https://www.homelandathome.org/wp-content/uploads/2022/08/homeland-at-home-updated-logo-2022.png
Wendy Shumaker
2020-05-20 17:27:38
2022-06-13 15:06:08
Remembering Veterans This Memorial Day and Beyond