test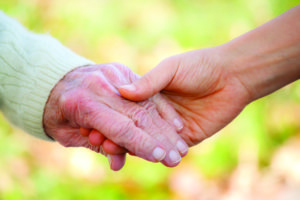 We all need human connections, especially during the journey of grief. A smile or caring embrace from individuals in our support network can provide us courage to share our most intimate feelings of loss, and give us the strength to believe in a better tomorrow. The impact of social distancing because of COVID-19 has compounded the grieving process for individuals and families.
Immediately following the announcement of stay-at-home orders, Homeland Hospice's bereavement support program shifted from in-person meetings to phone sessions. Homeland chose to connect to members via phone calls instead of virtual visits because of gaps in comfort levels in using technology, as well as access to specific online products and privacy concerns.
Homeland's bereavement programs are available to the bereaved of Homeland's patients as well as anyone in the community who is experiencing grief. Bereavement support group meetings also are held on a rotating schedule throughout the year. Homeland Hospice is a nonprofit hospice program that serves communities throughout Central Pennsylvania.

"I'm grateful to Brian Medkeff-Rose and Noelle Valentine, Homeland Hospice's bereavement counselors," says Mary Peters, MSW, LSW, Assistant Director of Social Services at Homeland Hospice. "They immediately adapted to phone sessions to offer support and guidance to all of our clients."
At the beginning of the COVID-19 crisis, anxiety levels were very high for individuals and families as there were so many unknown factors about the impact and spread of the virus. Social-distancing further increased levels of worry as people were unable to personally connect with friends, loved ones and their hospice support team.
"In the beginning, our calls with individuals were longer and more frequent as stress levels were very high," Noelle says. "It was important for clients to be heard and validated for their emotions."
In many cases, Noelle and Brian helped members develop new coping mechanisms that align with social distancing restrictions. For one of her clients who enjoys attending painting events with friends, Noelle encouraged her to find time for art and creativity at home. This activity provides a sense of normalcy and peace during this uncertain time.
With each client, comes a personal journey of grief. Not everyone is on the same path based on when a loved one died and individual adjustments to loss. For some people, the grief is very new and raw. Other individuals may be facing the first anniversary of the death of a loved one or experiencing mourning based on loneliness.
"For members of our bereavement groups, I've encouraged them to call each other," Noelle adds. "Through these connections, our clients are forming a unique community of support."
More recently, Noelle and Brian have been working with individuals who lost loved ones during COVID-19 and we're unable to be present at the end. This important time called "bedside holiness" includes heart-filled conversations about love, forgiveness, gratitude and saying goodbye. We hold on to these memories as we grieve and remember our loved one. Often, it's these moments that bring us the greatest comfort.
"It's extremely difficult for families losing loved ones at this time," Brian says. "It will complicate the grieving process in ways we've never experienced before."
Through this experience, Noelle and Brian are overwhelmed by the resilience of the human spirit and the compassion clients have for each other.
"We can't take away grief, but we can be there during the journey," Noelle says. "Amidst the darkness there is light for all of us."
To learn more, please contact Brian Medkeff-Rose, M.Div., M.A., or Noelle Valentine, MSW, LSW, at (717) 221-7890.
https://www.homelandathome.org/wp-content/uploads/2020/10/brian-medkeff-rose.jpg
300
247
Wendy Shumaker
https://www.homelandathome.org/wp-content/uploads/2022/08/homeland-at-home-updated-logo-2022.png
Wendy Shumaker
2020-05-27 08:30:20
2022-06-13 15:04:06
Compassionate Bereavement Support During COVID-19