test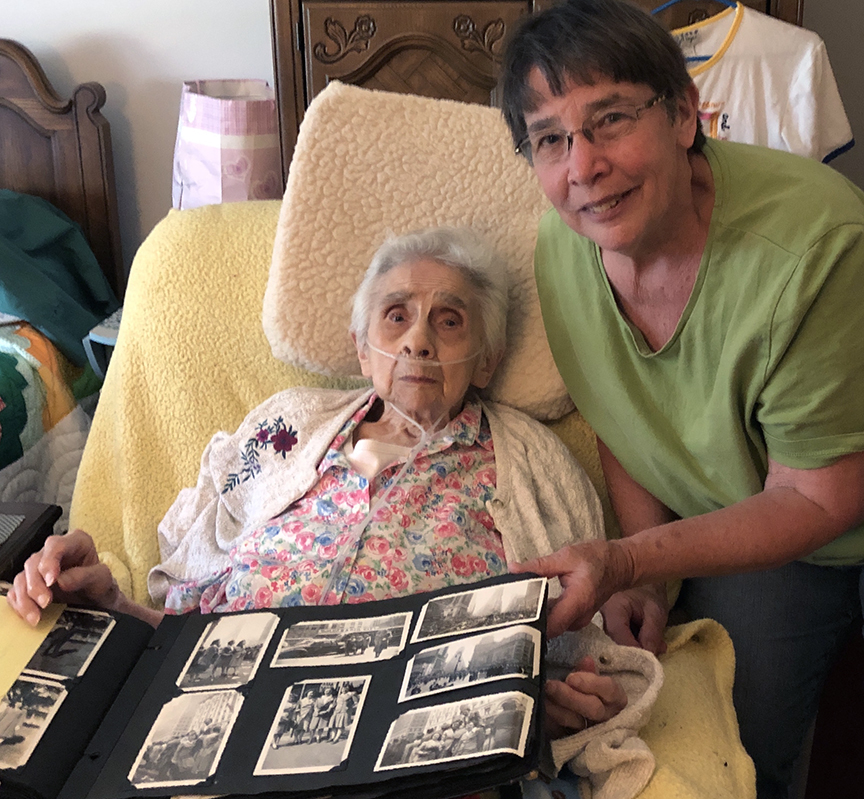 At 97 years young, Frances Shoop has a keen mind filled with memories of milestone adventures and beloved family moments. Frances lives with her daughter and caregiver Louetta Romberger in Millersburg. The two enjoy looking through family photo albums of the past, and cherish frequent visits from Louetta's grandchildren (Frances' great grandchildren).
Through Homeland Hospice's in-home care relief program, Louetta receives up to 40 hours of care each month at no cost. Homeland Hospice is a hospice program that serves communities throughout Central Pennsylvania. From light housekeeping to help with medication reminders, the in-home care relief program helps Frances and Louetta make the most of every moment together.
Louetta treasures conversations with Frances and the opportunity to learn about her mother's life experiences.
Growing up, Frances and her parents rented a farmhouse near Millersburg. To afford the rental fee of $10 a month, Frances' father cleared the land with his tractor and created a small garden for the family to grow their own vegetables.
Frances attended a one-room schoolhouse up to the eighth grade when she transitioned to high school. While she had dreams of becoming a nurse, the country was in the throes of World War II.
"At graduation, most of the boys had left for the war," Frances says. "My plans of becoming a nurse changed."
With labor shortages, Frances joined the workforce with other local women. She worked for a tool company and made equipment to support the war efforts.
On May 8, 1945, Frances and her friends where in Times Square on V-E (Victory in Europe) Day and experienced the pandemonium firsthand. This day marks the formal acceptance by the Allies of World War II of Germany's surrender. Unlike many of the iconic images of the day depicting celebrations, Francis and her friends were frightened.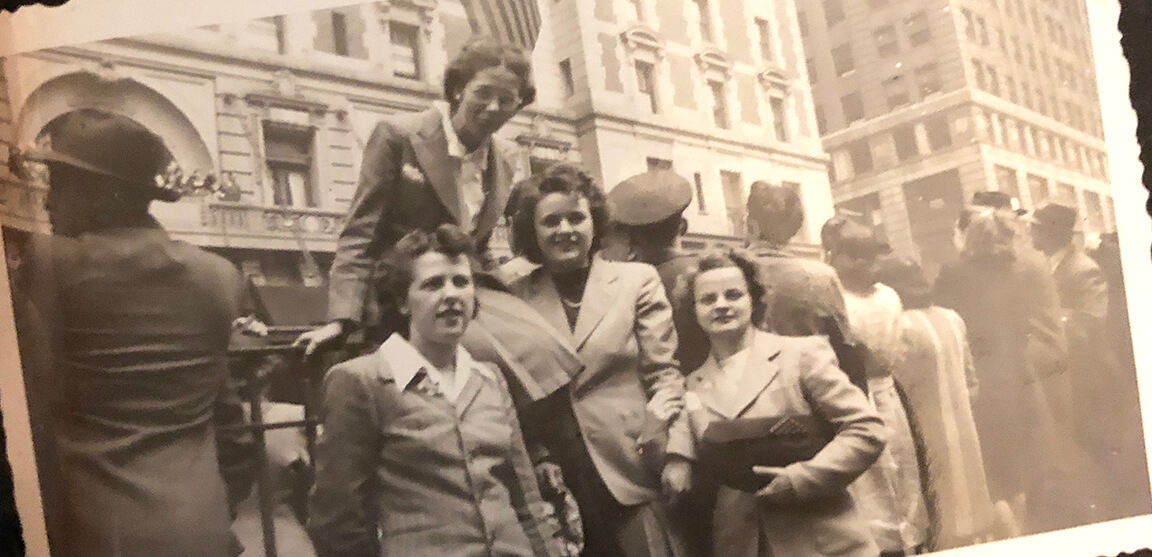 "The crowds were out of control and many men were aggressive," Frances says. "We were terrified and took the first train back to Harrisburg."
Following the end of the war, Frances and her friends were fired from the factory to make room for men returning from the war in need of jobs. Frances quickly found employment working for a shoe factory where she worked for 39 years.
Like her mother, Louetta aspired to practice nursing. She entered the profession soon after high school and worked up until her recent retirement.
"Being a nurse helps me understand my mother's needs," Louetta says. "I feel prepared to handle situations as they arise."
As a caregiver by profession, Louetta is cognizant of the importance of quality care.
"I've come to depend on Homeland Hospice because I trust them," Louetta adds. "Whenever I need help, hospice is always here for me."
For more information, call Homeland Hospice at (717) 221-7890.
https://www.homelandathome.org/wp-content/uploads/2019/07/Francis-and-Louetta-1.jpg
799
864
Wendy Shumaker
https://www.homelandathome.org/wp-content/uploads/2022/08/homeland-at-home-updated-logo-2022.png
Wendy Shumaker
2019-07-30 18:34:16
2022-06-13 15:21:13
Mother and Daughter Share Memories and Milestones