test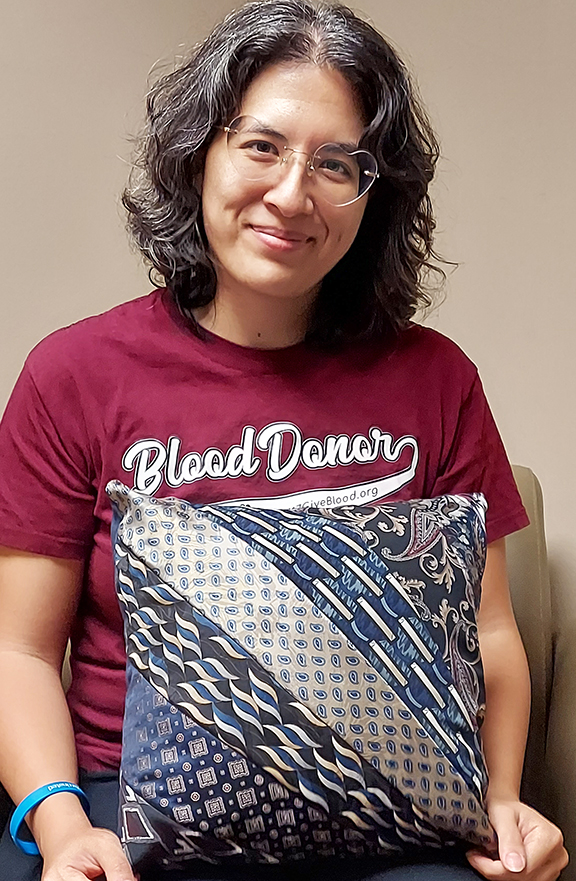 With a stitch of a needle or stroke of a paintbrush, Amy Zecha of Harrisburg is finding creative methods for channeling her grief following the death of her mother Angelyn. With the help of Homeland Hospice's bereavement program, Amy has found productive ways to discuss her grief and reconnect with art and crafts, which she has always loved. Homeland Hospice is a nonprofit hospice program that serves communities throughout Central Pennsylvania.
In April, Amy connected with Homeland Hospice when her mother was in the final stages of her battle with kidney disease. As her illness progressed, Amy knew they needed the extra care and support only a hospice program could provide.
"From the beginning, the Homeland team listened to my mother's needs," Amy says. "Being seen and heard during this challenging time was so important to my mom."
At the time, Angelyn was living at Bethany Village in Mechanicsburg. Homeland's hospice services are available any place an individual calls home. The Homeland team worked with the staff at Bethany Village to provide comprehensive care for Angelyn, which brought Amy comfort during a difficult time.
Following the death of her mother, Amy began bereavement counseling with Noelle Valentine, MSW, LSW, lead bereavement counselor for Homeland Hospice. Working with a counselor who specializes in helping people deal with grief, helped Amy in ways she never imagined.
"While I was grieving the loss of my mother, I realized I had unresolved grief over the death of my brother," Amy says. "Counseling lifted a weight off of my shoulders."
Homeland Hospice provides bereavement support through phone calls, mailings, one-on-one consultations and support groups up to 13 months after the death of a loved one. Support groups offer self-awareness, healing, helping others, a sense of community and coping skills. Bereavement support is available to the bereaved of Homeland's patients as well as anyone in the community who is experiencing grief.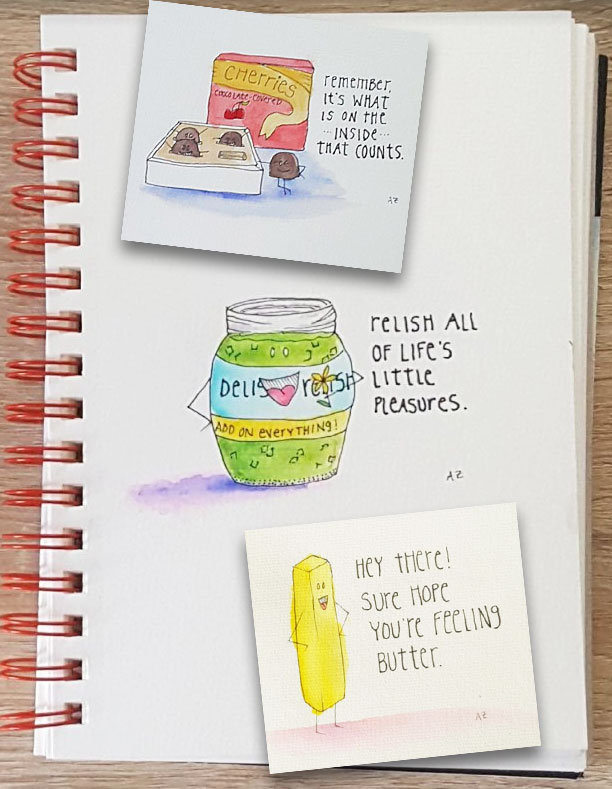 As the weight of grief lifted for Amy, her creativity returned. Amy has begun painting, drawing, sewing and knitting again. Her mother taught her many of these skills and encouraged her to pursue them as a child.
"Over the past few years, I didn't have energy to focus on my creative pursuits," Amy adds. "I'm productive again and enjoying every minute of it."
Amy's creations include funny paintings and greeting cards with puns, which remind her of the wonderful sense of humor shared by both her mother and brother.
This fall, Amy became a Homeland Hospice volunteer. She is creating memory pillows for families who have lost loved ones. The pillows are frequently made of articles of clothing worn by the deceased family member. Amy's first memory pillow was created for a woman who recently lost her husband. The pillow is made from his ties.
"Sewing meant so much to my mother," Amy says. "I am so happy I can help others while using a skill she taught me."
To learn more, please contact Homeland Hospice at (717) 221-7890.
https://www.homelandathome.org/wp-content/uploads/2021/11/zecha-collage.jpg
789
612
Wendy Shumaker
https://www.homelandathome.org/wp-content/uploads/2022/08/homeland-at-home-updated-logo-2022.png
Wendy Shumaker
2021-11-18 12:15:38
2022-05-19 14:13:26
Finding Creative Methods for Channeling Grief: Meet Amy Zecha