test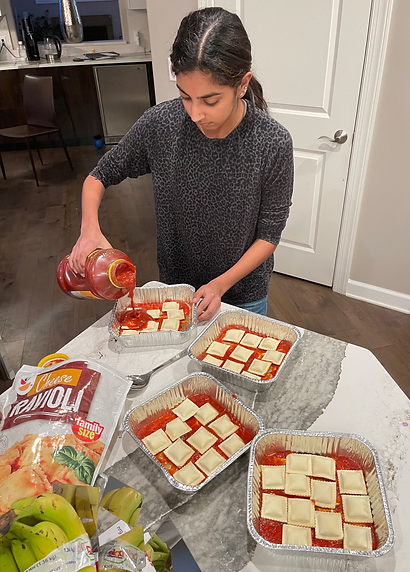 A home-cooked meal made with thoughtful intentions can do more than fill one's belly; it can provide empathy and compassion for a family going through difficult times. When the COVID-19 pandemic hit our region, many of us turned to Netflix to pass the time. Neeti Goel and her children Anishka, age 15 and Arav, age 17, of Mechanicsburg, turned to volunteering to help those in need of a warm meal and a bit of sunshine in their lives. Neeti and her children began preparing casseroles and soups for Homeland Hospice patients and their families. Homeland Hospice is a hospice program that serves communities throughout Central Pennsylvania.
Neeti located Homeland Hospice on VolunteerMatch, an online resource connecting volunteers with projects. Neeti and her children wanted to volunteer safely from their home and Homeland's need for prepared meals was the perfect opportunity.
"We started with the desire to volunteer," Neeti says. "It wasn't long until we perfected our work and began preparing meals twice a month."
Anishka and Arav quickly took on most of the cooking and expanded their menu to include soups. With practice came perfection. Anishka and Arav created an efficient assembly process to cook, store and package meals for delivery. The siblings also added handmade cards to offer support to hospice patients and their families.
"It felt good to know we were helping others," Anishka says. "Volunteering for a brief amount of time can make a big difference."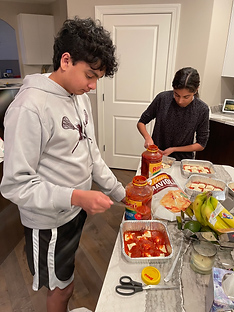 After months of meal preparation for Homeland, Neeti and her children began helping two additional hospice organizations in the region. As their work expanded, so did their grocery bill. Anishka and Arav decided to start their own nonprofit organization to raise funds to pay for the ingredients needed to prepare meals. The siblings founded Rays of Sunshine to bring a bit of light to families in their time of need.
From working with a lawyer to establish their charitable nonprofit status to creating a website, Anishka and Arav did it all. The experiences provided valuable life skills as well as resources to keep their passion of helping others going.
"We have raised more than $1,500 so far," Arav says. "The funds will help us continue making meals for families."
Rays of Sunshine held its first fundraising event earlier this year with Two Sisters' Mixers, which provided artisanal cocktail mixers. The event not only raised funds, but brought awareness to the power of volunteerism at any age and the work of Homeland Hospice.
Neeti, Anishka and Arav, never dreamed their decision to volunteer would create a transformational experience for the family. They simply set out to make someone's day a bit brighter.
"We were so pleased to learn how much the families enjoyed our cooking," Neeti says. "It has been wonderful for us to work together as a family."
Homeland Hospice is a hospice program that serves 14 communities throughout Central Pennsylvania by providing end-of-life care either in a person's home or wherever they reside, including nursing facilities. Homeland also provides bereavement support to families for a full 13 months following the death of their loved one. This service is available to anyone in the community who is experiencing grief.
For more information about Rays of Sunshine visit rays-of-sunshine.org. For more information about Homeland Hospice call (717) 221-7890.
https://www.homelandathome.org/wp-content/uploads/2022/07/rays-of-sunshine.jpg
572
410
Wendy Shumaker
https://www.homelandathome.org/wp-content/uploads/2022/08/homeland-at-home-updated-logo-2022.png
Wendy Shumaker
2022-07-06 15:08:38
2022-09-15 15:30:53
Mechanicsburg Teens Launch Charity to Provide Meals for Hospice Families