test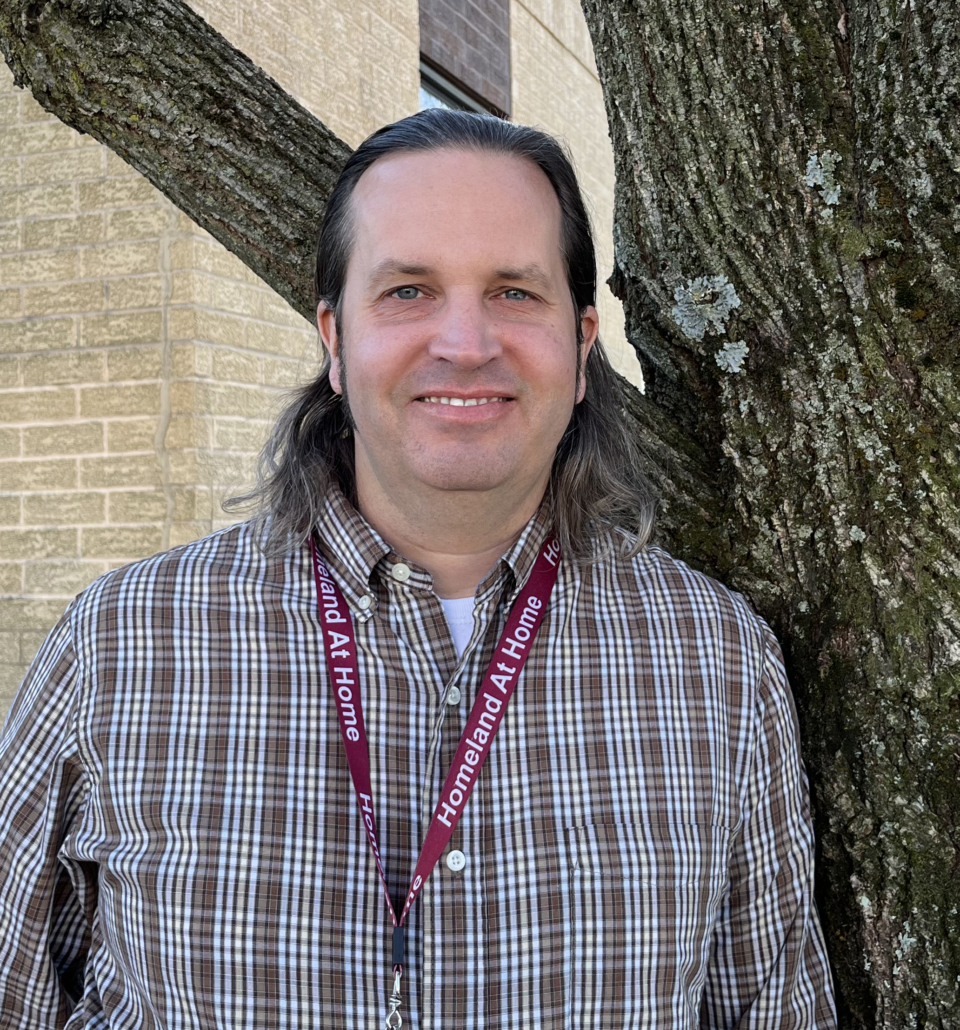 Though Todd Carver grew up watching his father serve as a pastor in Hagerstown, Maryland, he wasn't sure whether he wanted to take a similar path.
When his parents offered to pay for one year of Bible college, he took them up on their offer and attended Lancaster Bible College – and found his calling.
"The defining question of my life went from 'What do I want to do' to 'God, what am I here for?' and that is when everything changed,'' Todd said. "I'm now 24 years living out that question.''
Today, Todd is one of four chaplains with Homeland Hospice, an outreach program that cares for patients in the comfort of their homes or wherever they live. A former chaplain in the Army reserves, Todd also helps run Vet to Vet, a program helping Veterans who are served by Homeland Hospice, as well as residents of Homeland Center.
"I refuse to call what I do a job,'' said Todd, who came to Homeland last fall. "To me, this is what I'm put on this earth to do."
After graduating from Lancaster Bible College, Todd initially took a position as a full-time youth minister at Groton Heights Baptist Church in Connecticut. He then served as assistant director of the Monadnock Bible Conference in New Hampshire, a year-round non-denominational camp and retreat center for children and adults.
In his mid-30s, Todd felt the need to answer a parallel calling: serving his country, a desire harbored since his teens.
"I felt I could combine my love of country with my ministry skills,'' he said. "I believed it was a combination that could be very effective in supporting soldiers and their families.''
As a chaplain in the Army reserves, Todd and his family lived in Virginia, and he often spent weekends and months during the summer away from home. In 2015, he had a choice: take a promotion to captain, which would entail at least one deployment, or find a position that would give him more time with his wife, Holly-Mae, and their children, Cassie and Calvin.
"The children were entering their teenage years, and they wanted me home, so the result was saying we should do something we can together, and let's do something where we have family,'' he said.
His wife's sister lived in Lancaster, and when they saw an opening for residential house parents at the Milton Hershey School, it seemed a perfect fit.
"It was something we could do together, and we are already parenting and have a good foundation for our kids, and we thought we had something we could offer to other kids,'' Todd said. After four years, however, Todd and Holly-Mae felt it was time for a job that allowed them to focus more on their own teenagers.
Holly-Mae took a full-time position at the Hershey Medical Center, and Todd worked on getting his chaplain credentials at the hospital. Then, the director of chaplains told Todd of an opening at Homeland Hospice.
"I found the mission of helping patients and families finish well to match my education and experience in pastoral care,'' he said. "It all merged, and I found it so easy to make connections with patients and families and remind them of their spiritual beliefs, which they can draw from as they face the greatest challenge of their life.''
Soon after his arrival, Homeland Hospice began the Vet to Vet program as part of its work with We Honor Veterans, which offers hospices and community organizations guidance on assisting veterans. It was yet another way Todd's background and experience allowed him to serve veterans receiving care from Homeland Hospice and those living at Homeland Center.
"I wake up every day excited to come in,'' Todd said of his work as a Homeland Hospice chaplain. "I am on a phenomenal team of like-minded ministers who are passionate about serving patients and families in times of crisis.''
For more information about our outreach services at Homeland at Home, call (717) 221-7890.
https://www.homelandathome.org/wp-content/uploads/2022/12/Todd-Carver_crop.jpg
2214
2064
Wendy Shumaker
https://www.homelandathome.org/wp-content/uploads/2022/08/homeland-at-home-updated-logo-2022.png
Wendy Shumaker
2022-12-28 11:31:13
2023-01-27 15:56:16
Homeland Chaplain Todd Carver: Choosing a life of service and helping others