test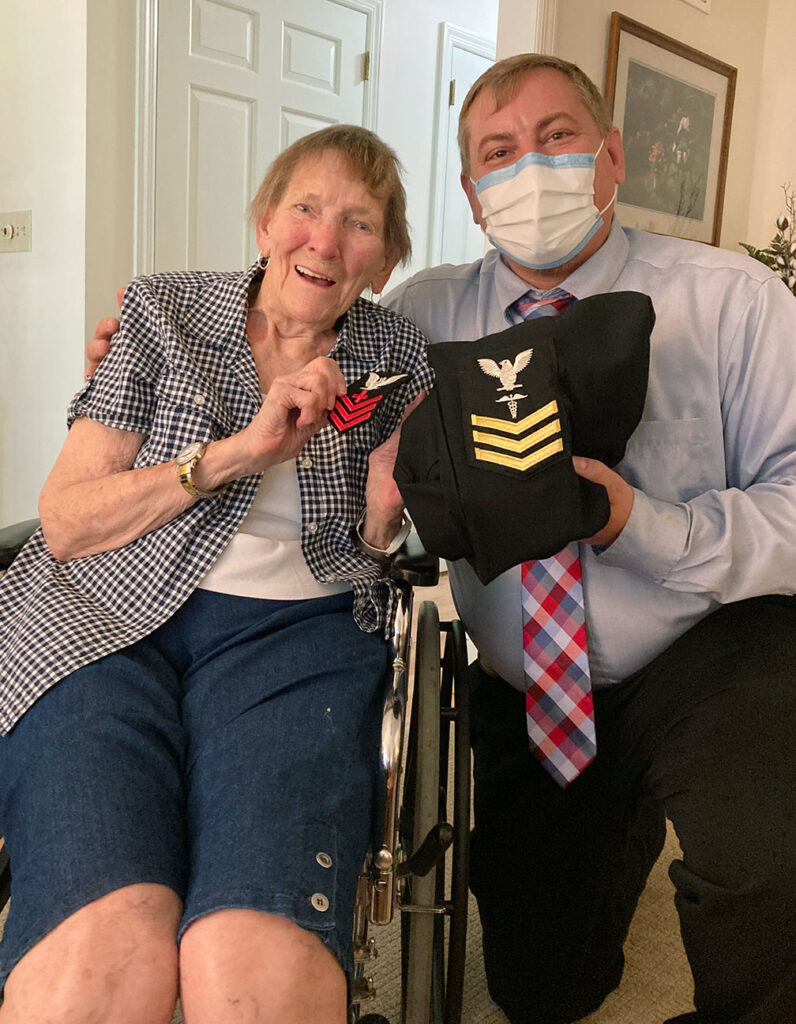 A remarkable life is not given. It is earned through service above oneself and demonstrations of courage and compassion in extraordinary times. Anna Weinfurter's journey began in Montana and took her across the country while serving in the United States Navy during World War II. While her uniform has been retired for decades, she continues to embody valor, honor and kindness.
Former Pharmacist's Mate First Class Anna Weinfurter is an example of a remarkable life earned by rising to life's challenges with bravery and faith.
Homeland Hospice recently recognized Anna, age 98 of Carlisle, with a special pin and certificate through the We Honor Veterans program, created by the National Hospice and Palliative Care Organization (NHPCO) in collaboration with the Department of Veterans Affairs (VA). The program works to improve the quality of health care for all veterans. Homeland Hospice is a nonprofit hospice program that serves communities throughout Central Pennsylvania.
In addition, Chaplain Mark P. Harris, M.A., M.Div., Spiritual Counselor at Homeland Hospice and a former hospital corpsman, presented Anna with an authentic rank badge from her time in the Navy.
"I haven't seen or touched a badge like this in so long," Anna says with tears in her eyes. "I'm so happy to hold this again."
As the daughter of homesteaders in Montana, Anna grew up surrounded by animals and acres of farmland. She was one of nine children in a close-knit family. After high school, Anna became a teacher. Her life, and the history of our country, changed when the United States entered WWII in 1942 following the attack on Pearl Harbor on December 7, 1941.
"I was 20 when I entered the Navy," Anna says. "My eldest brother chose the Navy and I was determined to follow in his footsteps."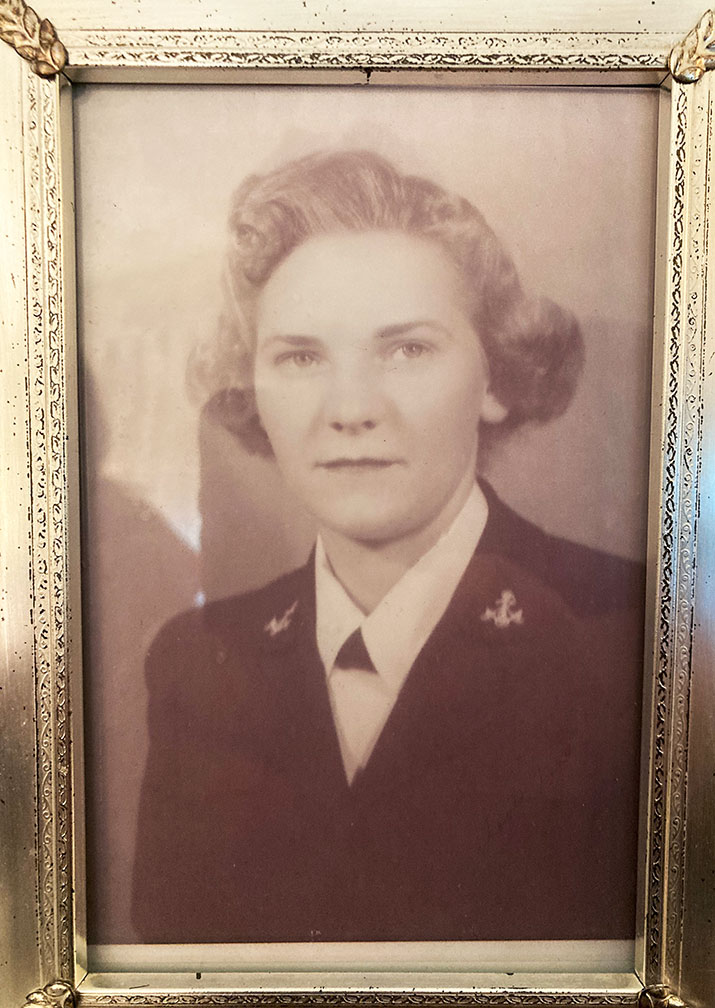 Anna left the family farm for the first time in her life to report for duty in Seattle, Washington in the spring of 1942. She was assigned to Hunter's College in New York City to complete basic training. Anna and her fellow soldiers traveled by "troop train" from Seattle to New York. A troop train solely transported military personnel. At the time, soldiers were segregated by rank and gender. During the day, Anna completed physical exercises, which included running alongside the train. At night, the train continued its journey to New York while the soldiers slept.
While at Hunter's College, Anna had a chance encounter with her eldest brother, whose ship was docked in New York City for the weekend. Anna's brother spotted her in a parade held to promote United States savings bonds. That weekend, Anna and her brother were guests of a local family who prepared an authentic Italian dinner. For Anna, this was her first experience eating food that didn't come from her family's farm.
"I was so surprised to see my brother and overwhelmed by the hospitality," Anna says. "It was an unforgettable night."
Following basic training, Anna once again traveled by train to Long Beach, California where she received pharmacist training, which is part of the scope of work of a hospital corpsman. As caregivers for both the Navy and Marines, hospital corpsmen treat the injuries and illnesses of soldiers in a variety of capacities and locations.
"I was one of only 13 women in the training course," Anna recounts. "I knew how to type and had the experience of teaching which helped me advance."
Anna next reported to Treasure Island California Naval Base in San Francisco Bay (closed in 1997), where she served for the next four years. During WWII, Treasure Island was used as a center for receiving, training, and dispatching service personnel serving in the South Pacific.
Anna was assigned to work with a high profile commander of the hospital at Treasure Island. Following the Bataan Death March in April 1942, surviving soldiers of the atrocity were sent to the hospital for immediate care before they were transferred to other bases for rehabilitation and recovery. Anna's commander insisted on meeting each solider. Anna worked by his side as they collectively greeted each soldier and bared witness to this tragic moment in our nation's history.
As the war progressed, Anna's work, and that of the Navy base, remained focused on the fighting in the South Pacific. Unlike modern-day communication platforms, which provide instant access to news across the globe, Anna knew little about the war efforts in Europe.
When the news broke about the D-Day invasion of Normandy on June 6, 1944, Anna and her fellow soldiers were overwhelmed with pride and happiness.
"We tossed our white caps into the air," Anna remembers. "Throughout San Francisco everyone was celebrating. We couldn't believe we did it."
When WWII ended in September of 1945 Anna was in New York City. She was filled with relief and pure joy to see an end to the devastation. For Anna's parents, the end of the war meant Anna and five of her six brothers would no longer be in harm's way.
While her time as a Pharmacist's Mate First Class came to an end, Anna's service to our country as a military spouse continued. While at Treasure Island, Anna met and married Joe Barnett, a hospital corpsman from Alabama. Anna and Joe had one son Curtis Barnett, Doctor of Veterinary Medicine, a beloved veterinarian who worked in Cumberland County until his death in 2017. Following Joe's passing, Anna remarried. Her second husband, who also served in the military, has since passed away.
In July, Anna will celebrate her 99th birthday. Last year, during the closures of the COVID-19 pandemic, Anna's community recognized her special day with a parade of cars passing her home. This year, Anna hopes to see her friends and neighbors in person. At nearly 99, Anna greets each day with gratitude and happiness.
"I'm honored I could serve my country," Anna adds. "My life has been filled with blessings."
https://www.homelandathome.org/wp-content/uploads/2021/07/Anna-Mark_2387-796x1024-1.jpg
1024
796
Wendy Shumaker
https://www.homelandathome.org/wp-content/uploads/2022/08/homeland-at-home-updated-logo-2022.png
Wendy Shumaker
2021-06-14 12:23:32
2022-05-19 14:10:27
The Remarkable Life of Anna Weinfurter, WWII Veteran