test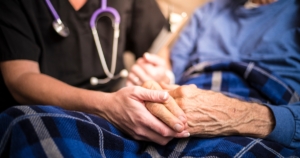 Homeland at Home strives to help patients and families make the most of their moments together. Through teams of dedicated and compassionate professionals, Homeland provides a continuum of care for changing life circumstances. Earlier this year, Homeland launched a Palliative Care program to enhance its line of services. The program works in collaboration with Homeland's other outreach services, including Homeland Hospice. While Hospice Care and Palliative Care programs are often mistaken for one another, they are not the same.
Hospice care is for individuals with a serious illness when a medical cure is no longer possible or the decision to stop aggressive treatment has been made. Homeland Hospice helps patients and their loved ones live as fully as possible during their end-of-life journey by providing comfort and pain relief. In addition to care services, medical equipment and supplies are provided as needed to aid in a patient's care.
Palliative care may be provided at any time during a person's illness and is often offered to patients while they are receiving potentially life-prolonging or curative treatments. Palliative care is based on the needs of the patient, not on a specific diagnosis and does not prevent patients from receiving other healthcare services, treatments or procedures. This form of care provides relief to patients suffering from pain, stress or other symptoms due to a serious illness.
"The goal of palliative care is to reduce or eliminate symptoms such as pain, fatigue and other symptoms that may be impacting their quality of life or interfering with their ability to continue to pursue life prolonging care," says David Wenner, Assistant Medical Director for Homeland Hospice. "This form of care often helps patients avoid unnecessary emergency room visits due to uncontrolled symptoms and other issues related to their disease."
One similarity between hospice and palliative care is their delivery of services. Both programs are implemented anywhere a patient calls home. The convenience and comfort of receiving care at home brings comfort and peace of mind to patients and their families during a difficult time.
Homeland at Home delivers hospice and palliative services with its hallmark tradition of providing the most compassionate care possible. Central to this approach is putting the patient first. The Homeland team works with patients and their families to understand the patients' goals and values so they can make the best care choices possible. Both programs understand each patient is different, so the Homeland team often incorporates out-of-the-box approaches to support patients' individual needs.
Hadiza Fox has been a registered nurse practitioner at Homeland for more than six years. She provides both hospice and palliative care to patients and understands how to make sure patients' voices are heard during their time of need.
"Each patient is unique and requires a personalized approach to care," Hadiza adds. "The Homeland team works together, along with a patient's other health care providers, to ensure that care is consistent, compassionate and individualized."
The month of November is National Hospice and Palliative Care Month. Homeland is honored and privileged to be part of the lives of patients and their families in central Pennsylvania. We are proud of our outstanding team of professionals who provide the highest quality of care every day.
For more information on Homeland's Hospice and Palliative Care programs, call (717) 221-7890.
https://www.homelandathome.org/wp-content/uploads/2022/11/Palliative-vs-Hospice.jpg
630
1200
Lauren Gorbey
https://www.homelandathome.org/wp-content/uploads/2022/08/homeland-at-home-updated-logo-2022.png
Lauren Gorbey
2022-11-30 14:29:11
2022-12-28 13:03:13
Palliative or Hospice Care: Which Service is Best for You?