test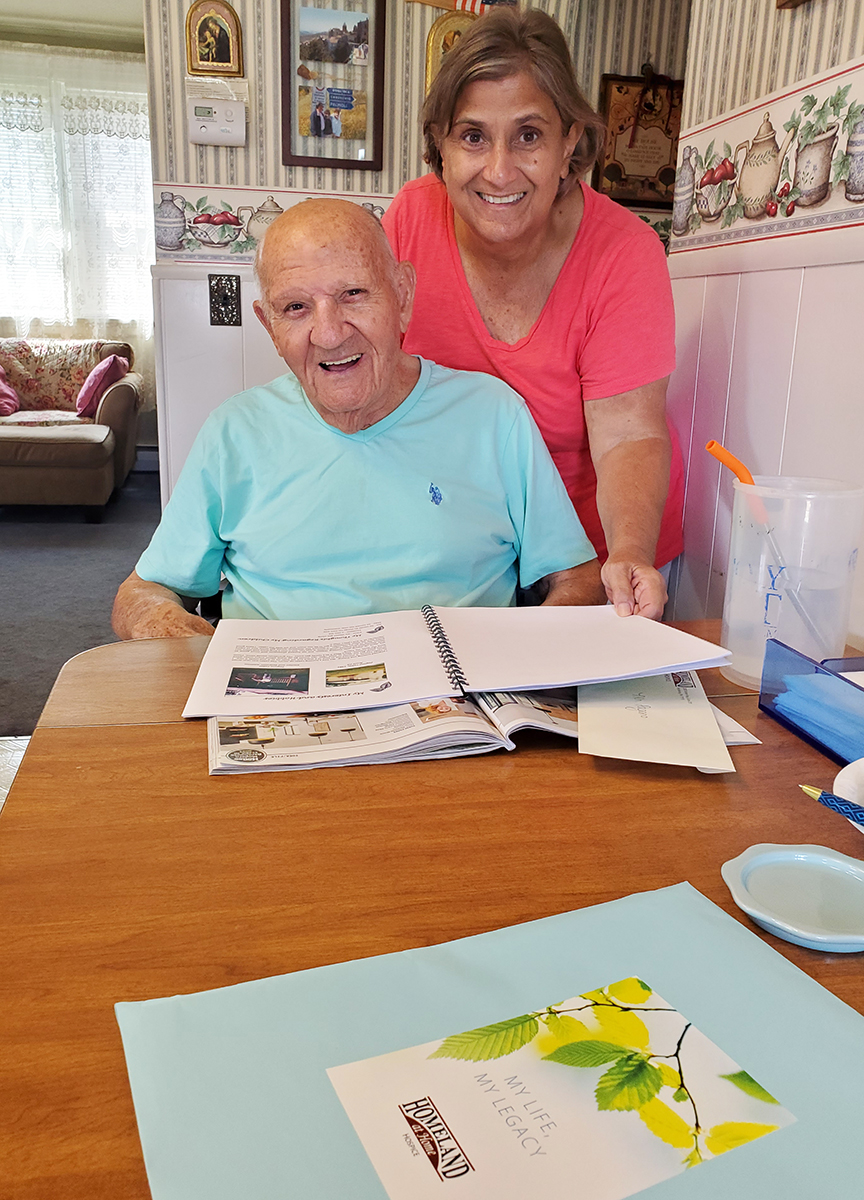 We all have a story to tell filled with memories and experiences of our life. Like a good book, our story is cataloged into chapters, with recollections of our childhood, youthful dreams, careers and families of our own. These memories can fade quickly with the passage of time. To honor and preserve the story of one's life, Homeland Hospice has launched the My Life, My Legacy program for hospice patients and their families. Homeland Hospice is a nonprofit hospice program that serves communities throughout Central Pennsylvania.
Through the My Life, My Legacy program a hospice volunteer meets personally with the each patient and their family to ask questions about the patient's life. Over a series of visits, the volunteer records the responses and allows the family to add their thoughts and recollections, as well as photographs. The end result is a printed book for the patient to help him/her find peace, and pride in his/her life story. The book also helps families preserve memories after their loved one dies.
"Each story is distinctive based on the patient," says Laurie Murry, Volunteer Coordinator for Homeland Hospice. "We focus on the topics that interest them most."
The concept for the program originated with an existing component of a patient's end-of-life journey. Each patient goes through an informal "life review" with a volunteer, which helps the Homeland team best serve a patient's individual needs.
Homeland Hospice volunteers and staff believed the life review process could be enhanced to better tell a patient's story.
"Our volunteers guided the creation of the program," Laurie adds. "Their insight has been invaluable."
For Carol Wambach and her family, the My Life, My Legacy program has provided insight into her father's life, especially his childhood memories. Carol's father, James Pagano, receives care from Homeland Hospice for Parkinson's disease, dementia, and heart failure. While James struggles with short-term memory loss, he vividly remembers his parents, family and friends growing up in Rutherford Heights on the outskirts of Harrisburg.
In his book, James also shares fond memories of his wife of 73 years and his four children, as well as his passion for gardening.
"My siblings and I helped with the book," Carol says. "We added some questions around topics important to our father."
With James' book completed, Carol has made copies for her sibling and the grandchildren in the family.
"Memories can fade over time, but we will always have this book about our father," Carol adds. "It has brought our entire family comfort."
When Sharon Reed's mother was approached about the program, she eagerly accepted and looked forward to her time with Glen Dunbar, the volunteer from Homeland.
"My mother greatly enjoyed her time with Mr. Dunbar from Homeland Hospice. His questions and life legacy topics provided wonderful memories and even insightful information to us," Sharon says.
Sharon's mother was fortunate to have full control of her faculties up until the last few days before her death. Her vivid memory provided wonderful content for her book, which was completed and delivered the day she died.
"We displayed the book at my mother's funeral," Sharon adds. "It was a lovely way that day to share such special information and photos. We still turn to Mr. Dunbar's book as a happy remembrance of my Mom."
_________________________
Homeland Hospice is a hospice program that serves 14 communities throughout Central Pennsylvania by providing end-of-life care either in a person's home or wherever they reside, including nursing facilities. Homeland also provides bereavement support to families for a full 13 months following the death of their loved one. This service is available to anyone in the community who is experiencing grief.
For more information about the My Life, My Legacy program, call Laurie Murry at (717) 221-7890.
https://www.homelandathome.org/wp-content/uploads/2021/11/my-lif-my-legacy-pagano.jpg
1200
864
Wendy Shumaker
https://www.homelandathome.org/wp-content/uploads/2022/08/homeland-at-home-updated-logo-2022.png
Wendy Shumaker
2021-11-22 17:01:58
2022-05-19 14:13:29
Telling the Story of One's Life: Homeland Hospice Launches My Life, My Legacy Program