test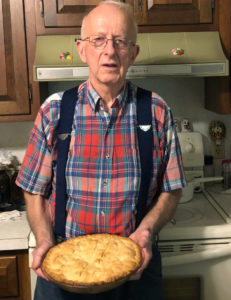 For Ken Stoner of Etters, discovering his new identity after the death of his beloved wife Sarah has been a difficult journey. With the support of his family and new friends from Homeland Hospice's men's breakfast group, Ken is tapping into his creative and entrepreneurial spirit to find new purpose.
"I attended my first men's breakfast on my first wedding anniversary without my wife," Ken says. "The men in the group understand the challenge of finding strength through grief."
Last fall, Ken transformed a portion of his home into an airbnb, which he affectionately calls Home on the Hill. Since it's opening in November, Ken has hosted individuals and families from as far away as China. In the coming months, Ken wants to learn how to use Facebook to promote his business. His long-term plans include expanding his rental space to accommodate more travelers.
Guests staying at Home on the Hill are often treated to one of Ken's delicious homemade pies. Ken began baking following the death of his wife as a way to stay busy. After months of practice, he has mastered recipes for seven pies and always makes his own crust.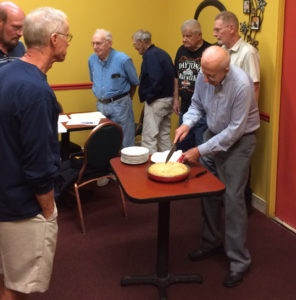 Ken finds the greatest joy in baking is sharing his pies with friends, including the men in the breakfast group. At the men's breakfast in August, the group encouraged Ken to enter his apple pie in the Annual New Cumberland Apple Festival.
"I never imaged I would open an airbnb or start baking," Ken says. "I'm learning to take on new challenges to help me through my grief."
In the coming months, Ken will begin volunteering with Homeland Hospice. As an avid guitar, piano and ukulele player, Ken hopes to share his love of music with hospice patients. He remembers the important role music played in comforting his wife during her illness and hopes to bring this sense of peace to others.
Ken's journey through grief reflects the transformation many individuals encounter. Along the road of heartache, new opportunities and friendships can help individuals discover a part of themselves.
"The changes I've made have been a blessing," Ken adds. "They have given me purpose.
Homeland Hospice's bereavement support program is available to the bereaved of Homeland's patients as well as anyone in the community who is experiencing grief.
The men's breakfasts are held on the second Thursday of each month from 9 -10:30 a.m. at Gordon's Family Restaurant in Harrisburg.
To learn more, please contact Brian Medkeff-Rose at Homeland Hospice at (717) 221-7890.
https://www.homelandathome.org/wp-content/uploads/2022/08/homeland-at-home-updated-logo-2022.png
0
0
Wendy Shumaker
https://www.homelandathome.org/wp-content/uploads/2022/08/homeland-at-home-updated-logo-2022.png
Wendy Shumaker
2018-12-03 17:37:20
2022-01-24 12:42:49
Ken's Story: Discovering a New Identity Through the Journey of Grief