test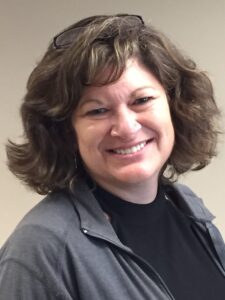 Challenging times can bring out the best or worst in people. Some individuals focus on problems and uncontrollable circumstances, while others find opportunities to share their compassion with others.
Laurie Murry, volunteer coordinator for Homeland Hospice, works to find and spread light in the darkest of times. During COVID-19, her empathy for patients, volunteers and staff has been an inspiration when it is needed most.
In her position as volunteer coordinator, Laurie trains and places hospice volunteers according to their interests and in a manner that accommodates their busy schedules. Homeland Hospice is a nonprofit hospice program that serves communities throughout Central Pennsylvania.
Since the beginning of the COVID-19 pandemic, Laurie has found creative ways to connect with patients who are unable to see family and friends because of social distancing. Laurie created a card campaign through Volunteer Match, an online program that engages individuals in volunteer projects. Through the campaign, people were asked to create cards and write uplifting messages to hospice patients.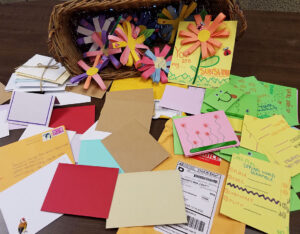 "There are good things happening in this world," Laurie says. "Sending cards to patients is a great way to lift their spirits while also enabling people to take part in a positive activity during a difficult time."
Within six hours of posting the volunteer opportunity online, Laurie had heard from families as far away as Hawaii, Florida and California. Many people wanted to engage their children in an uplifting project as a way of teaching about the power of the human spirit during adversity.
"When one door closes, Laurie finds a way to open a window," says Debbie Klinger, RN, director of Homeland Hospice. "Patients might not be able to see visitors, but Laurie has found a way to make them feel important."
Laurie's card campaign was so successful, she had to remove the opportunity from Volunteer Match after a few short hours. Based on the outpouring of support, patients will receive cards over the next several weeks.
The impact of COVID-19 has placed significant burdens and worries on the shoulders of the frontline workers at Homeland Hospice. During this time, Laurie partnered with her friends to create morale booster packages with cards and small gifts for nurses and aides. Recipients of the anonymous gifts were overwhelmed by the show of encouragement and appreciation.
To connect with volunteers who are currently unable to help due to safety precautions, Laurie created a video of the hospice team in their masks with signs of support. The video served to remind volunteers they are appreciated and missed.
"Laurie is always looking for ways to make an impact," says Myra Badorf, assistant director of development for Homeland Hospice. "We're grateful for the impact she makes on our lives and those of our patients and volunteers."
For more information about Homeland Hospice and volunteer opportunities, call (717) 221-7890.
https://www.homelandathome.org/wp-content/uploads/2020/06/Murry-Laurie-1.jpg
300
225
Wendy Shumaker
https://www.homelandathome.org/wp-content/uploads/2022/08/homeland-at-home-updated-logo-2022.png
Wendy Shumaker
2020-06-08 21:11:21
2022-06-13 14:57:32
Cheerleader, Friend and Advocate: Employee Spotlight on Laurie Murry