Volunteer Services
Webster defines the word "volunteer" simply as a person who does work without getting paid to do it. But volunteering is so much more! Helen Keller said it well, "Alone we can do so little; together we can do so much."
Medicare and state regulation requires that five percent of all patient care services be provided by volunteers.  This requirement, as well as Homeland Hospice's commitment, elevates volunteers to be an integral part of the team serving our patients and families, and as well in supporting the administrative work which keeps the organization functional. 
Homeland Hospice is seeking caring, compassionate individuals who are interested in giving to others, and in return being blessed abundantly, by sharing time with those who are at end of life and their families throughout south central Pennsylvania. Volunteers are needed in each community of our 13 county service area. We are growing, and our commitment to our community is to provide quality care, supported by quality staff and volunteers.
Meet Sherry & Andy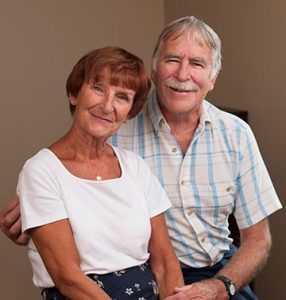 Sherry and Andy bring the perspective of caring for loved ones at the end of their lives and finding comfort and support through Homeland Hospice. "Helping people who are at the end of their lives makes you forget about your own aches and pains and problems," says Sherry. "It's hard to be…" She pauses, looking for the word. "Sorry for yourself when you see the condition of someone else," says Andy, completing the sentence.
Sherry, who started volunteering in 2012, helps Homeland Hospice patients with whatever they need, whether it's getting groceries, reading out loud, or sitting and talking. "One woman I visited, we'd sit and watch Hallmark movies," she says. Sherry also helps with paperwork, freeing staff "to do more important things."
Andy started volunteering in January 2015, after retiring from a career in installing and servicing dental equipment. Homeland Hospice personalizes services to the needs of families and patients, he says, and they understand that "everybody deals with grief in their own way." He has helped with administrative work, built a storage shelf, and visited patients. As a U.S. Navy veteran, Andy also joined an initiative to honor hospice patients who are veterans. He goes to them, wearing a Navy veteran's hat, and reads a certificate recognizing their service. "It makes me feel good to see that sparkle in their eye when you mention their military service and they see another vet honoring them," Andy says. "It feel goods to touch their lives."
Next steps to becoming a Hospice volunteer:

You can volunteer now, or download a volunteer application.
Our training program is done in two ways. Training can done online, on your schedule, with organizational support throughout the process. Or, classes are made available throughout the year in varying locations—this is a six week program.
Your volunteering time can be as flexible as you need it to be. As a volunteer, you will be offered continuing education opportunities, quarterly focus groups, and ongoing contact from the Coordinator of Volunteers or other members of the Homeland Hospice team.
For more information, email Laurie Murry, Coordinator of Volunteers, or call at 717-221-7890.
William Shakespeare said "I can no other answer make, but thanks and thanks." 
Thank you in advance!