test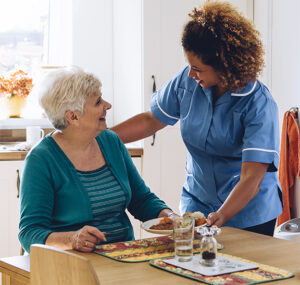 Our home tells the story of our lives. It is the place where we find comfort among our memories and personal belongings. We also feel independent and free by living each day according to our own schedule, but with age comes fundamental changes in how to remain at home and thrive. Understanding the challenges and options available to families is essential to safely aging in place.
Homeland specializes in home care and home health as part of its continuum of care through Homeland at Home, the community outreach program of Homeland Center. While both services provide support to patients and families, there are differences between the options.
"Home care includes non-medical assistance," says Barbara Goll, B.S., Community Education Liaison/Nutritionist at Homeland at Home. "Home health is a physician ordered plan of care provided by licensed health professionals."
For many patients and families, home care helps improve a patient's quality of life while living safely at home. Home care also assists the primary caregiver who may be unable to perform the daily tasks required for the patient. This support gives caregivers a brief respite from the emotional pressures of caring for a loved one.
Home care can be tailored to suit specific needs. Primary services include:
Meal preparation
Companionship
Personal hygiene
Bathing
Dressing
Grooming
Toileting
Feeding
Transferring
Light housekeeping
Families exploring home care are encouraged to research the costs and coverage of these services as long-term insurance plans and Medicare coverage may vary.
Home health is usually prescribed by a physician as part of a healthcare plan following hospitalization, injury or onset of a new diagnosis. Home health uses a team approach of medical professionals including nurses; physical, occupational and speech therapists; social workers and certified nursing assistants. The primary goal is to treat an illness or injury to help the patient heal and return to an independent lifestyle, or regain as much self-sufficiency as possible.
For many patients and their families, home health is preferred over recuperation in a hospital or skilled nursing facility because of the comfort of being in one's home. The level of care provided by Homeland's Home Health team is just as effective as services provided by an in-patient facility.
Home health services may include:
Health monitoring
Wound care
IV therapy and injections
Medical tests
Medication administration and reminders
Rehabilitation therapy
Pain management
Cardiac care
Patient and caregiver education
Health insurance plans and Medicare may cover the cost and coverage of home health services. A physician must certify this type of service and a Medicare-certified home healthcare agency must coordinate the care.
Understanding home care and home health before you or your loved one needs these services is essential to creating a plan of care that brings comfort and safety to your life. At each step, Homeland is available to help answer your questions and discuss options to age in place.
"Decisions about home care and home health can be overwhelming," Barbara says. "We are here to discuss options and provide information with compassion to help families make the choice that is right for them."
https://www.homelandathome.org/wp-content/uploads/2021/01/caregiver-resident-shutterstock_482413708_crop-edit-sm-300x285-1.jpg
285
300
Wendy Shumaker
https://www.homelandathome.org/wp-content/uploads/2022/08/homeland-at-home-updated-logo-2022.png
Wendy Shumaker
2021-01-13 19:53:50
2022-02-24 10:57:06
Planning Ahead to Age in Place: Understanding Home Care and Home Health