test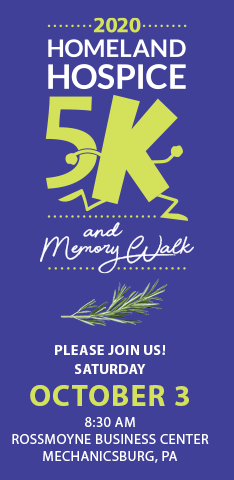 By Myra Badorf, Asst. Director of Development, Homeland Hospice

Make plans to join us on Saturday, October 3rd for our 6th Annual 5K and Memory Walk … "it's the joy we will remember" during a fun and meaningful event.
Over 6 years ago, a group of staff and board members at Homeland wanted a signature event that would shed a different light on hospice and be an outreach to the surrounding communities we serve.  So, what was initially a competitive 5K run and walk, transitioned last year. The event now includes an endearing Memory Walk, focusing on our patients and the family members we served. The foundation of this event is to remember. It's for families to remember their loved ones and for us, as an organization, to remember and honor the community and people we are blessed to care for on a daily basis.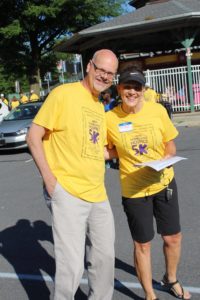 The Memory Walk was the brainchild of Brian Medkeff-Rose, Homeland Hospice Bereavement Counselor, to focus on "remembrance" and to use the herb rosemary as the thread. Rosemary is symbolic for remembrance. It comes from Latin meaning "dew of the sea," because it grows along the rocky coast of the Mediterranean. William Shakespeare references rosemary in several of his plays including Hamlet. Hamlet's love interest, Ophelia says, "There's rosemary, that's for remembrance, pray for love, remember."
One of the uplifting and fun activities that all participants were welcome to participate in last year was to take a rosemary plant home and watch it grow.  We will be offering rosemary and remembering opportunities again this year.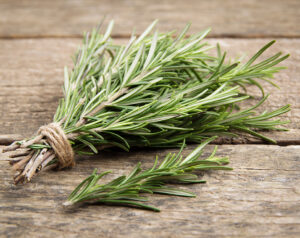 What made this event meaningful?
Bereavement counselor, Noelle Valentine shares her thoughts on what made last year's event so special, "It went right to the heart of what we do. Inviting everyone we have served and walked that end of life journey with enabled us to honor families by adding this inclusive element…."  It is all about love, from our staff to them and from them to their remembered loved one. The Memory walk gives families numerous opportunities, one of which includes supporting an organization that was instrumental in caring for their loved ones. "It also honors their grief and gives them a platform to personally mourn their loved one in a unique and safe environment," states Noelle.
This event has grown from 113 participants in 2015 to nearly 300 participants in 2019.  Considering Covid-19, every precaution will be taken to ensure the safety of all in attendance by following CDC guidelines. In 2020 we will run and walk at Rossmoyne Business Center, 5000 Ritter Road in Mechanicsburg where there will be ample space to keep distancing and other recommendations in mind. Details on the event and registration are available on our website: www.homelandhospice.org/5K-MemoryWalk.
https://www.homelandathome.org/wp-content/uploads/2022/08/homeland-at-home-updated-logo-2022.png
0
0
Wendy Shumaker
https://www.homelandathome.org/wp-content/uploads/2022/08/homeland-at-home-updated-logo-2022.png
Wendy Shumaker
2020-07-21 20:54:40
2022-03-21 12:02:05
"Memories, like the corners of my mind…" (The Way We Were)