test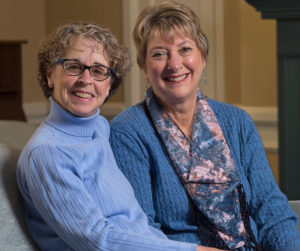 There are moments in one's life when the right people emerge to offer comfort and strength when it's needed most. For Kathy Page of Camp Hill, this support came from the team at Homeland Hospice.
Kathy's husband, Charlie, died last summer after battling cancer for four years. During the final month of his life, Homeland helped manage Charlie's physical pain and provided emotional and spiritual support to both Charlie and Kathy.
"I call the hospice team my angels," Kathy says. "They were with me every step of the way. I never felt alone in this journey."
Kathy's "team of angels" included Pam Ramsey, BSW, social worker at Homeland Hospice (pictured above and left with Kathy), Franchesca Washington, RN Case Manager, and Chaplain Mark P. Harris, M.A., M.Div., Spiritual Counselor at Homeland.
During their brief time together, Mark and Charlie developed a unique connection. From the moment they met, they understood one another, like long-time friends.
"Charlie trusted Mark and felt comfortable opening up about his life," Kathy says. "Their conversations helped both Charlie and me find peace during his final days."
At Kathy's request, Mark officiated Charlie's graveside service.
"We cared for Charlie and Kathy like we would our own family," Pam says. "It was a privilege to support this loving couple."
Recently Kathy began attending Homeland's women's luncheon series, which helps women navigate their journey of grief in a safe and supportive space. Kathy is making new friends in the group, and finds strength in learning from others while sharing her own story. She is considering taking a trip to Europe with attendees from the group.
"Grief can be all-encompassing and it's easy to shut down," Kathy adds. "Through Pam and my Homeland team, I've learned it's okay for me to make time for myself and let others into my life."
Homeland Hospice provides bereavement support through phone calls, mailings, one-on-one consultations and support groups up to 13 months after the death of a loved one. Support groups offer self-awareness, healing, helping others, a sense of community and coping skills.
The Women's Soup and Salad Luncheons are held the third Friday of each month from 11:30 a.m. to 1 p.m. at Isaac's Grill at the West Shore Plaza.
To learn more, please contact us at Homeland Hospice at (717) 221-7890.
https://www.homelandathome.org/wp-content/uploads/2022/08/homeland-at-home-updated-logo-2022.png
0
0
Wendy Shumaker
https://www.homelandathome.org/wp-content/uploads/2022/08/homeland-at-home-updated-logo-2022.png
Wendy Shumaker
2019-03-08 16:11:59
2022-01-24 12:42:08
Homeland Team Helps Kathy Page Find Peace and Comfort